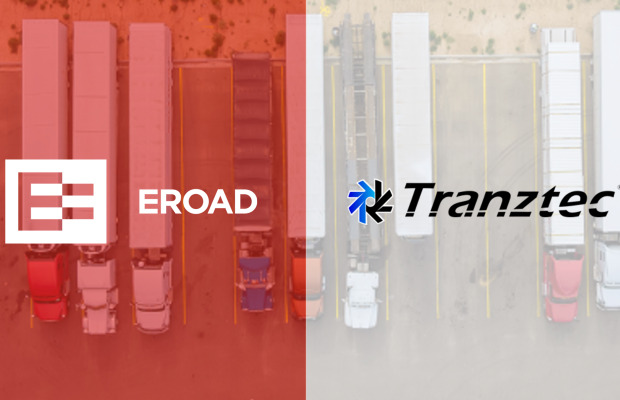 With expanded capabilities, EROAD is well-positioned to enhance fleet efficiency and provide greater visibility into the supply chain ecosystem
EROAD, a global leader in fleet performance management, announced a partnership with Tranztec Solutions, Inc., a leading supply chain technology company that provides an open platform for connectivity and visibility across the industry. The collaboration will allow EROAD to develop a comprehensive set of integrations with transportation management systems (TMS), unlocking efficiencies by automating freight visibility, communications, and transportation-specific workflows.
Through this partnership, EROAD and Tranztec will offer fleet managers comprehensive visibility to optimize planning, procurement, logistics and lifecycle management, enabling timely delivery of freight and goods. With EROAD's robust telematics and Tranztec's capabilities, fleet managers will be empowered to monitor freight activity in real-time, and create, plan and manage the progress of an order throughout the entire supply chain.
"EROAD has always been committed to delivering the most reliable and applicable insights to its customers. TMS integration has been an important product development and we're excited to partner with Tranztec Solutions to expand our capabilities," said Akinyemi Koyi (AK), President of North America at EROAD. "Fleet managers will have access to data that will make it easier to manage and optimize their transportation operations, playing a vital role in improving a fleet's bottom line."
With improved dispatching capabilities and an interactive map with load details, the new integrated TMS can capture, present and transmit critical data to customers without manual effort. The partnership will further EROAD's existing capabilities to facilitate seamless communication with motor carriers and freight brokers, as well as collaborate with shippers to solve common challenges with cargo security, freight integrity, and load detention.
"Tranztec is proud to partner with EROAD to provide seamless integration and visibility services to EROAD's impressive fleet performance platform," said Toby Miller, CEO at Tranztec Solutions. "EROAD's customer-focused solutions with such a strong emphasis on connectivity, safety, and the optimized supply chain combined with Tranztec's open transportation platform gives fleets the ability to effortlessly optimize their in-cab insights and services with EROAD's advanced features and capabilities."
Category: Connected Fleet News, Driver Stuff, Featured, Fleet Tracking, General Update, News, Safety, Tech Talk, Tools