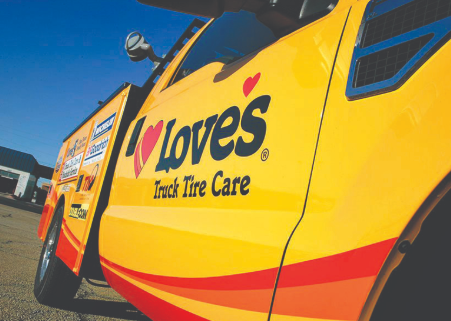 Professional drivers can prepare for CVSA's International Roadcheck at more than 350 Love's, Speedco Service Centers
Professional drivers can receive free TirePass inspections and half-priced DOT inspections from May 27 to June 6 at Love's Truck Tire Care and Speedco, the nation's largest oil change and preventive maintenance network. The announcement was made today by Love's and Speedco to help drivers prepare for the Commercial Vehicle Safety Alliance's 2019 International Roadcheck.
The CVSA International Roadcheck takes place June 4-6, and inspectors will be out across the U.S. conducting inspections of commercial motor vehicles and drivers. It's the largest targeted enforcement program on commercial motor vehicles in the world, with nearly 15 trucks or buses inspected every minute across North America. The focus of this year's Roadcheck is on steering and suspension violations. Both components are examined during a DOT inspection at Love's and Speedco. Preemptively repairing out-of-service conditions saves professional drivers money and time.
"Love's and Speedco not only make sure drivers are safe and legal on the road, we realize how important time is to the driver, and we want to exceed their expectations," said Tom Edwards, executive vice president of Tire Care for Love's. "Love's saves drivers time by having the TirePass inspection completed while they fuel up and it keeps them safe by offering DOT inspections to proactively repair any issues."
Tire-related issues tend to be at the top of the list for placing drivers out of service. Using Love's TirePass ensures any potential tire-related compliance violations are identified and properly addressed before professional drivers roll up to an inspection. Love's TirePass is an in-lane tire inflation and assessment service, available on the inside diesel lane at Love's Travel Stops across the country.
During the 2018 International Roadcheck, 11,910 vehicles were found to have out-of-service conditions. The top out-of-service conditions were brakes, tires and wheels and brake adjustment. Get Roadcheck ready at more than 350 Love's and Speedco locations nationwide.
Category: Featured, Fleet Maintenance, General Update, News, Wheels & Tires