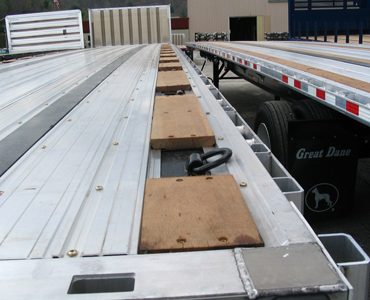 Manufacturers of semi-trailers have been improving the load-bearing capacities, and loading and unloading technology to meet range of heavy cargo transportation demands
Growing use of road infrastructure in meeting freight transportation needs of various industries in several countries around the world, coupled with the rising need for cargo transports in numerous emerging economies, is what sets the tone for impressive growth of the semi trailers market. According to a study by Transparency Market Research, growing demand for long-distance trucks in heavy industries will key to propelling the sales of semi-trailers. The semi-trailer market is projected to clock a CAGR of 3% during 2018 – 2026, and will reach worth of US$ 24 bn by the end of this period.
"Application of road freight in transportation of cargo has been growing on the back of strides in e-commerce and international trade. Sizable opportunities in the semi-trailers market stem from the demand for semi-trailers as cost-effective means of transport for managing municipal and industrial waste in urban centers," opine analysts at TMR.
Key Findings of the Semi-trailer Market Study
25 – 50 ton capacity semi-trailers attract prominent demand in terms of tonnage in various applications.
More than 4 axle segment is expected to gather more traction, in terms of axle, among users in the semi-trailers market
Among all industries, heavy industry has emerged as the one with substantial use of semi-trailers in meeting the cargo needs, particularly in steel, mining, chemical, and manufacturing.
Construction and food and beverage are the ones presenting substantial opportunities for players in the semi-trailers market
Stake trailers and curtain trailers have emerged out as prominent segment, and will continue to witness large demand; this is attributed to their cost-effectiveness and operational flexibility in loading and unloading of various types of cargo.
Semi-trailer Market: Key Driving Factors
The study takes a close look at the macro-economic trends that underlie the expansion of the semi-trailers' demands around the world. Rapid growth of road freight for heavy goods transport in numerous industrialized economies around the world has been key to the expansion of the semi-trailers market. A few trends worth noticing are:
Strides the manufacturing industries have been making in various parts of the globe has catalyzed the growth in volumes of road freight transport, propelling the demands for semi-trailers. To put things in perspective, the sector' overall contribution has undoubtedly increased over the past 25 years.
Cross‑border e‑commerce is expected to rise at a significant margin from 2018 to 2026, which will also augment the demand for semi-trailers in the logistics.
Key Impediments for Semi-trailer Market Players
Though market analysts paint a bright prospect for the semi-trailers market, a few constraints should concern stakeholders.
In developing countries, road infrastructure is still at the developmental stage, evident in the absence of wide roads connecting urban and rural areas.
Maintenance activities in some parts of the world have been slow to keep pace with the rise in road freight transport.
Trucks with integrated trailers have become a viable alternative for semi-trailers, thereby hampering the growth in the semi-trailers market.
Semi-trailer Market: Region-wise Analysis
Geographies with massive trucking needs for cargo movement are key to positive expansion of opportunities in the semi-trailers market. Regionally, North America stands out from the rest. In 2017, it held the major share, where opportunities had thrived on the back of growing spending on road infrastructure and connectivity. Constant equipment upgrade will help the regional market to cement its potential in coming few years as well. In the same year, this was trailed by Asia Pacific, wherein China accounted for the major share. The country is witnessing sizable demand for semi-trailers on account of rapid increase in long-distance trucks for high-volume cargos.
Competition Landscape
Key manufacturers of semi-trailers are leaning on launching semi-trailers with extended service life, high performance, and safety features to meet the demands for haulage in key markets. A few well-entrenched players in the semi-trailer market are also focusing on meeting the customized needs of end-use industries. An example is HYUNDAI Translead. Most globally top manufacturers are incorporating better materials in the trucking equipment and trying out new designs.
Names of prominent players in the semi-trailer market include Chassis King, Inc., Kögel Trailer, Maschinenfabrik Bernard Krone GmbH & Co. KG, and Kögel Trailer.
The semi-trailer market is segmented on the basis of:
Type

Curtain Trailer/ Stake Trailer

Tonnage
Axle
End-use Industry
Region
Freight Trucking Market – The global market is projected to reach ~US$ 6 Bn by 2027, expanding at a CAGR of ~5% during the forecast period. The growth of the freight trucking market can be attributed to increase in transport trade globally.
Trailer Terminal Tractor Market – The global trailer terminal tractor market is likely to be driven by a range of macroeconomic and industry-specific factors. North America is expected to be at the forefront of global demand, with the market in the region expanding at a CAGR of more than 2% between 2019 and 2027.
Category: Cab, Trailer & Body New, Featured, General Update, News, Vehicles