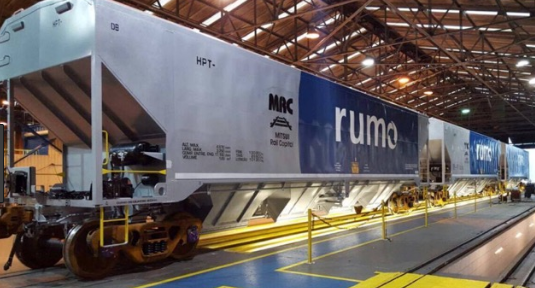 Orders for 3,800 units valued at nearly $450 million during fiscal Q2
The Greenbrier Companies announced that it had received orders for 3,800 new railcars with an aggregate value of nearly $450 million during its fiscal second quarter ended on February 28, 2019. Orders for the quarter include tank cars, automobile-carrying railcars and covered hopper cars, and were consistent with Greenbrier's expectations for the period. New railcar backlog of 26,000 units valued at $2.7 billion continues to be diversified across railcar types.
Separately, Greenbrier today announced preliminary financial results for its fiscal second quarter. Greenbrier expects revenue of approximately $650 million and unadjusted EPS of $0.07 to $0.09per share. Challenges in Romania, Gunderson and railcar repair operations impacted results by $0.29, including one-time charges of $0.14 related to loss contingencies on certain railcar contracts, primarily in Romania, along with facility closure costs in the railcar repair operations.
William A. Furman, Chairman and CEO, said, "In the quarter, railcar order demand was solid overall. However, we are disappointed with our earnings. This was largely driven by three factors. First, poor manufacturing execution in Romania compounded by supplier delivery failures and railcar contract loss contingencies created losses in the quarter at our European railcar manufacturing operations. Next, lower overhead absorption due to increased labor costs and lower railcar build activity at our Gunderson manufacturing facility weakened results. Finally, continued challenges in railcar repair operations, including extreme winter weather and closure costs, impacted earnings. Collectively, these items negatively impacted results by $0.29 per share. Greenbrier is actively addressing these performance issues and will resolve them."
Category: Featured, General Update, News