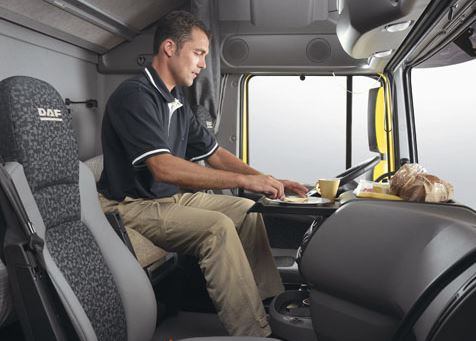 Echosens Launches Collaborative Relationship With Healthy Trucking of America
Echosens, a high-technology company offering the FibroScan family of products, announces its collaborative relationship with Healthy Trucking of America (HTA), the leading authority on health and wellness issues for America's truckers. The goal of the collaboration is to proactively address liver health among its 770,000 active fleets in the United States, including independent owner/operators and fleet drivers representing 7 million highly insured professional drivers. The FibroScan non-invasive, rapid and painless examination to accurately assess liver health is expected to become a key success factor for mitigating the risk and halting the progression of fatty liver disease, fibrosis or liver cirrhosis among drivers. These conditions are inextricably linked to metabolic syndrome and obesity and may result from work-related conditions that include long hours behind the wheel with limited opportunities for physical activity, healthy food and regular shift and sleep patterns.
Bill Gordon, founder and CEO, HTA, points to this collaboration with Echosens as part of the HTA "2021 Shift Into Better Health" campaign, saying,"Improving professional driver health is vital for the longevity of the trucking industry, and for the safety of all road users. We are redoubling our efforts on prevention, education and early detection of liver disease, with broader initiatives to give long-haul truck drivers and supporting staff free health coach assistance and lifestyle change programs for a number of chronic disorders. Unfortunately, one in three drivers have symptoms of prediabetes and don't know it – a factor which impacts the onset of liver disease."
He adds that this collaboration also supports liver and metabolic health by early identification and driver engagement with HTA health coaches and partners. This broad program supports healthier living to ensure that professional drivers continue to pass the bi-annual medical exam conducted by Certified Medical Examiners and required by the Department of Transportation to maintain a Commercial Drivers' License or risk losing their livelihood.
According to HTA, 54.2% of members report obesity, followed closely by 47.2% reporting liver disorders and 32.8% reporting diabetes. Since 2016, HTA has an established relationship with CDC in prediabetes treatment and weight management programs and has delivered National Diabetes Prevention Program (NDPP) awareness programs to over 200,000 fleets across the United States to improve the health of professional drivers.
Jon Gingrich, CEO, Echosens North America, "We're excited to join forces with HTA and play an important role in helping to improve the health of the nation's hard-working professional drivers. Even modestlifestyle changes – including diet and exercise – can have a big impact, with even 3% to 5% weight loss documented to improve liver health. FibroScan is easily implemented and provides a valuable tool for early detection, monitoring, patient education and engagement."
Category: Driver Stuff, Featured, General Update, Management, News, Safety, Tech Talk