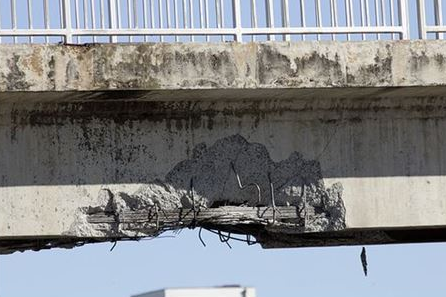 47,000 bridges considered structurally deficient
The International Union of Painters and Allied Trades strongly supports The Strengthen and Fortify Existing Bridges Act (SAFE Bridges). The SAFE Bridges Act, reintroduced by U.S. Senator Jeanne Shaheen (D-NH) and co-sponsored by Senators Maggie Hassan (D-NH), Sheldon Whitehouse (D-RI), Bob Casey (D-PA) and Angus King (I-ME), would provide states with much-needed funding to repair or replace unsafe bridges and for a corrosion protection system to lengthen the life of the bridge.
"Structurally deficient bridges are an equal opportunity crisis. Any car or truck driver crossing an unsafe bridge is at risk. Congress needs to come together and provide states with the funding to rehabilitate or replace the 47,000 bridges considered structurally deficient," said IUPAT General President Ken Rigmaiden.
The Strengthen and Fortify Existing (SAFE) Bridges Act would provide $2.75 billion for each of fiscal years 2020-2025 to the U.S. Department of Transportation. The agency would distribute funding to states for the total cost of rehabilitating or replacing structurally deficient bridges. The legislation also permits states to use the funding to maintain surface coating and paint systems and to prevent corrosion.
"My legislation would provide an overdue initial investment to repair our nation's bridges, which will also help create jobs," said Shaheen. "Both the President and members of Congress from both parties have spoken about the need to rehabilitate our aging infrastructure – this bill presents an opportunity to begin to make good on that pledge. As bridges in New Hampshire and across the country continue to crumble from disrepair, the need for bipartisan cooperation has never been more urgent. Continued neglect poses significant public safety risks and jeopardizes our economy."
The IUPAT worked with U.S. Sen Jeanne Shaheen to include a provision allowing states to use the federal funding for corrosion protection.
Category: Featured, General Update, News, Safety