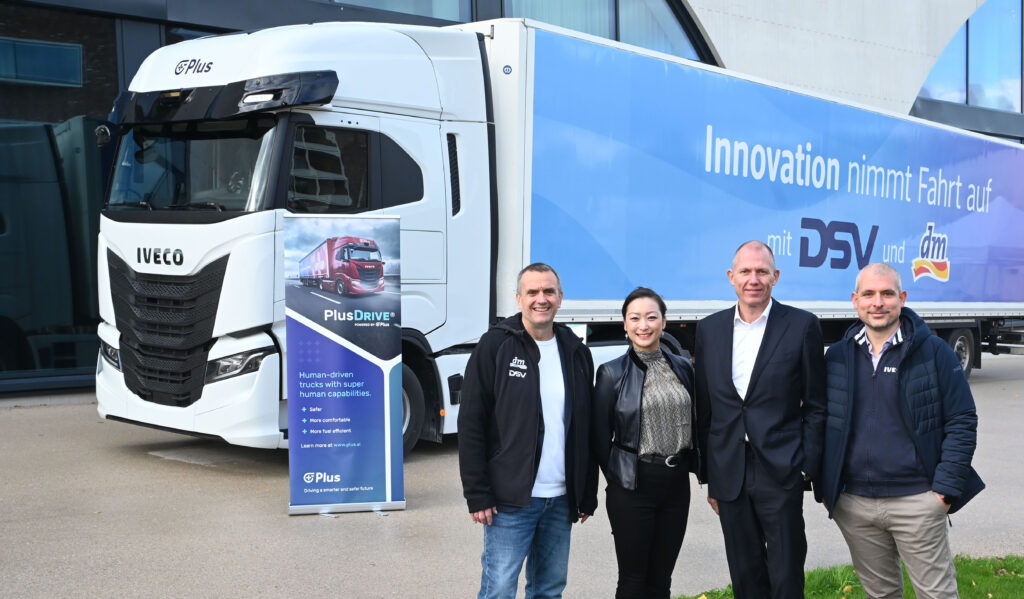 First customer pilot in Germany with highly automated trucks will move commercial freight in the Baden-Württemberg-Hessen region
IVECO and Plus announced today with dm-drogerie markt, Europe's largest retail chain of drugstores, and DSV, one of the world's leading transport and logistics providers, the launch of an automated trucking pilot in Germany which will start in the first half of 2024. An IVECO heavy duty truck integrated with Plus's AI-based, driver-supervised highly automated driving software will operate on a DSV route to transport dm-drogerie markt products in Germany's Baden-Württemberg-Hessen region. Piloting with a logistics carrier on a bustling commercial freight route is a key enabler for the large-scale deployment of automated trucks in the coming years.
The program serves to demonstrate that state-of-the-art automated driving technology can already be used today to enhance freight transportation and make trucking safer, less stressful, more efficient, and more sustainable. Customer deployments have already shown that Plus's driver-in solution, PlusDrive, can help reduce total cost of ownership (TCO) for fleets and improve driver job satisfaction.
"For us at dm, our automated trucking pilot is a groundbreaking and important step towards sustainable logistics. The technology can make a significant contribution to the comfort and safety of drivers and ensure that our supply chains run more smoothly and reliably," said Christian Bodi, the dm Managing Director responsible for logistics. "Together with our partners, we want to use this innovative project to gather insights into the potential impact of highly automated trucks on operations for dm."
"Sustainability is a shared value between our organizations. At DSV, we are defining our path towards becoming net-zero by 2050, and we are committed to supporting our partners and playing a role in the green transition of our industry and societies at large. The green transition requires new and innovative technologies, and we are always ready to take part in innovative projects like this – especially with our valued partner dm," explained Jens Bjørn Andersen, Group CEO, DSV.
"Automation is a driving force to let the transport industry evolve towards new safety and efficiency frontiers. We are delighted that DSV and dm recognize the transformative potential of our highly automated trucks. Their collaboration with IVECO and Plus on this pilot will further advance the understanding of this technology at scale and represents a milestone for the concrete deployment of autonomous driving production series," said Marco Liccardo, Chief Technology & Digital Officer, Iveco Group.
Shawn Kerrigan, COO and Co-Founder at Plus, said: "Trucking is an essential but challenging job. Plus's suite of software solutions, from the driver-in to the self-driving system, is designed to support different needs and use cases. Our collaboration with dm, DSV and IVECO will accelerate the commercial deployment of our autonomous driving technology at scale and help realize our shared vision for a safer and greener future."
Category: AUTONOMOUS, Cab, Trailer & Body, Connected Fleet News, Electric Vehicles, Engines & Drivetrains, Equipment, Featured, General Update, News, Products, Tech Talk, Vehicles