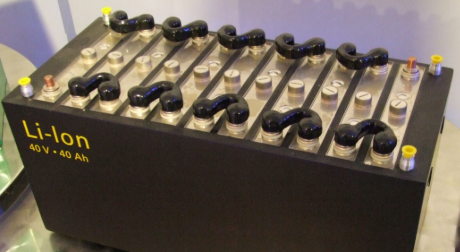 The shift from diesel-powered vehicles to fully electric and more environmentally efficient vehicles is already taking place
Recent consumer trends in the automotive industry have shown that many electric vehicle (EV) manufacturers are already seeing increased sales. Other large automotive players in the industry are also transitioning from their current portfolio of gas-powered vehicles into a more fully electric production line. The abundance of EVs is partly attributable to the growing concerns regarding the environment as well as government initiatives imposing the transition. EVs are predominately powered by lithium-ion batteries, which are a lightweight and high-energy density solution. They provide the highest energy density per weight and are commonly used in phones, computers, as well as hybrid automobiles. According to data compiled by Grand View Research, the global lithium-ion battery market is expected to reach USD 93.1 Billion by 2025, while registering a robust CAGR of 17% as well. The EV market is expected to be a major driver for the overall lithium-ion battery, as well as the battery's growing adoption in portable consumer electronics and grid storage systems is expected to accelerate the market. MGX Minerals Inc. (OTC: MGXMF) (CSE: XMG), FMC Corporation (NYSE: FMC), Honda Motor Co., Ltd. (NYSE: HMC), Livent Corporation (NYSE: LTHM), Ford Motor Company (NYSE: F)
Various nations have already moved to adopt clean environmental legislation, which would ban the use of gas-powered vehicles. Several European nations, such as Norway, the Netherlands, the United Kingdom, France, and Germany, have already implemented regulations which are expected to take in place in the coming years. Despite the global movement, the Asia Pacific region is expected to continue its domination of the market. In 2016, the region accounted for 48.3% of the global share, primarily led India and China. The two countries are expected to see the amount of EVs rise due to the implementation of these progressive government policies. "As automakers ramp up production for evermore EVs, demand on the power grid from EVs will grow exponentially. According to best estimates, growth in EV adoption could drive a 300-fold increase in electricity consumption by 2040, compared to 2016. The current grid will need to evolve significantly to accommodate that growth, driving a blitz of new innovation in wind and solar power, which will ultimately shift global reliance on coal toward clean energy alternatives," according to a Thomson Reuters research report.
MGX Minerals announced that, "its collaborative research partnership with the University of British Columbia ("UBC") has completed a comprehensive baseline assessment of metallurgical silicon originating from each of the Company's three silicon projects in southeastern British Columbia. MGX and UBC are working together to develop next-generation Li-ion batteries capable of quadrupling energy density from current 100 Wh/kg up to 400 Wh/kg for use in long-range electric vehicles and grid storage.
With the Phase One assessment completed, Phase two of the collaborative is now underway and will focus on developing a scalable process to upgrade metallurgical silicon originating from MGX's projects to battery-grade silicon anode. The developed silicon anode will serve as a viable replacement over the present graphite anode and enable higher-energy-density lithium-ion batteries for numerous applications, including electric vehicles, grid storage, telecommunication, wireless sensors and more.
About the Research Initiative: The objective of the MGX/UBC research consortium is to develop a low-cost and scalable method that will fabricate a silicon-based anode to improve the energy density of Li-ion batteries. The two-year research program seeks to focus on 1) fabricating nanostructured silicon using low-cost metallurgical silicon as a feedstock and 2) compositing nanostructured silicon with commercial graphite to develop a high-performance silicon anode. The initial goal of the research is to replace the graphite anode with silicon and complete a hybrid in the short-term which will not require industry retooling. The ultimate goal is to enable next-generation Li-ion batteries capable of quadrupling energy density from current 100 Wh/kg up to 400 Wh/kg for use in long-range electric vehicles and grid storage.
Dr. Jian Liu, Assistant Professor in the School of Engineering at UBC Okanagan, is leading a research group focused on advanced materials for energy storage. Dr. Liu was previously the technical lead for development of surface coating materials by atomic and molecular layer deposition, and their applications in surface and interface engineering on the anode and cathode of Li-ion batteries and beyond, at Western University and Pacific Northwest National Laboratory.
Category: Featured, General Update, Green, News