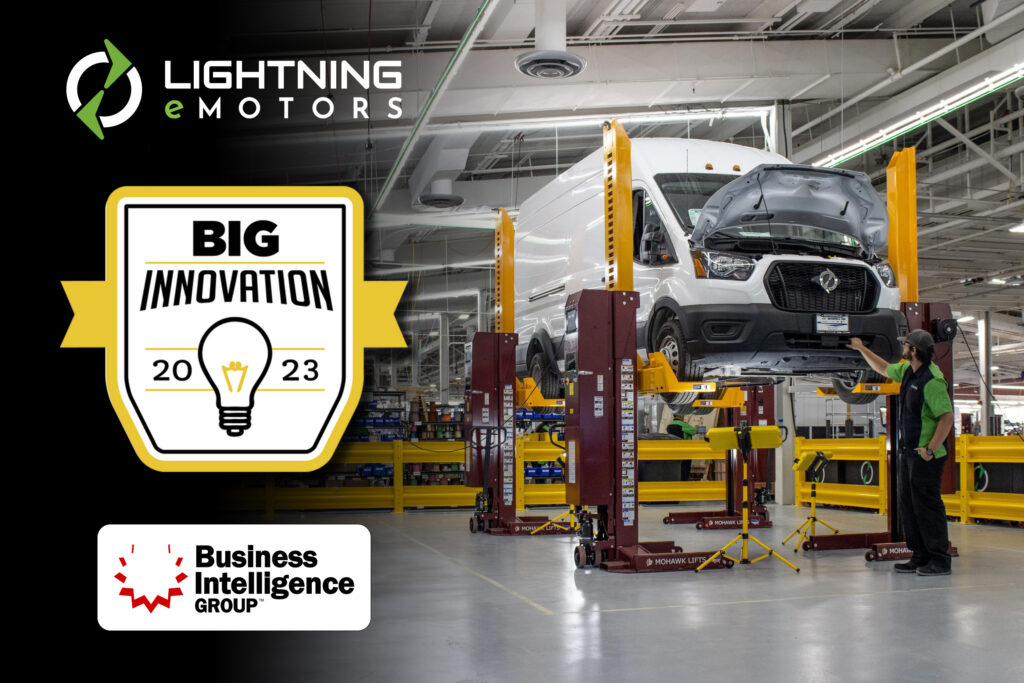 Lightning joins the BIG Innovation ranks of many top brands, including IBM, PepsiCo, Lucid, ADP and more
Lightning eMotors provider of zero-emission, medium-duty commercial vehicles and electric vehicle technology for fleets, says that both Lightning and its CEO Tim Reeser have been named winners of the 2023 BIG Innovation Awards presented by the Business Intelligence Group.
Lightning was recognized for driving the commercial electric vehicle (EV) industry forward through its market-leading medium duty commercial EV platforms, new and existing vehicle repower programs, and providing a range of complementary technologies, services and products, including mobile charging solutions, to accelerate fleet EV adoption. The recognition serves to identify Lightning as a proven leader in deploying commercial EVs, with hundreds of new and repowered all-electric commercial vehicles across multiple sectors on the road, including full-sized transit, micro-transit, last mile delivery, emergency response, school buses and others.
"It's an honor to be recognized by Business Innovation Group for our legacy of bringing new ideas to life, and to join the ranks of such a distinguished group of current and previous winners, including IBM, Walgreens, WalkMe, ADP, PepsiCo Design & Innovation, Lucid and others," Lightning eMotors CEO Tim Reeser said. "We know the work we're doing is innovative, but more than that, recognition like this further confirms that what we're doing is impacting the world in a positive way."
Additionally, Lightning CEO Tim Reeser was named an individual winner of the BIG Innovation awards program, alongside ten other industry leading executives who are also driving innovation. Reeser, who built Lightning eMotors from the ground up, was pivotal in turning his small startup into a major player in the commercial EV industry. Under his leadership, Lightning now stands apart as a leading EV manufacturer serving customers through the critical phases of the electrification equation with a full spectrum of product offerings, manufacturing capabilities, charging options, telematics, and customer service programs.
"Innovation is 'business critical' in today's society," said Maria Jimenez, chief operating officer of the Business Intelligence Group. "We are thrilled to be honoring both Lightning eMotors as a company and its CEO Tim Reeser, as they are leading by example and improving the lives of so many."
Organizations from across the globe submitted their recent innovations for consideration in the BIG Innovation Awards. Nominations were then judged by a select group of business leaders and executives who volunteer their time and expertise to score submissions.
Category: Electric Vehicles, Engines & Drivetrains, Equipment, Featured, Fuel & Oil, General Update, Green, News, Shop Stuff, Tech Talk, Vehicles