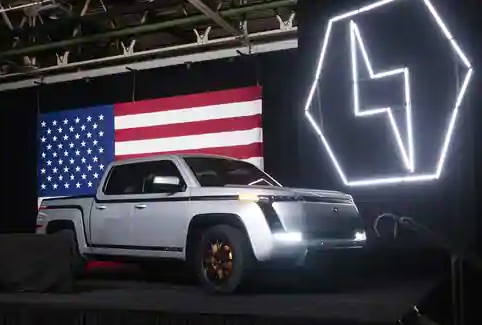 Lordstown Motors to Trade on Nasdaq Under Ticker "RIDE"
Lordstown Motors Corp electric light duty trucks focused on the commercial fleet market, announced today that it has completed its business combination ("Business Combination") with DiamondPeak Holdings Corp. ("DiamondPeak") (NASDAQ:DPHC), a special purpose acquisition company. The Business Combination was approved by DPHC stockholders in a special meeting held on October 22, 2020. Beginning on October 26, 2020, Lordstown Motors' Class A shares will trade on the Nasdaq Global Select market under the ticker symbol "RIDE" and its warrants will trade on Nasdaq under the ticker symbol "RIDEW".
"We are proud of this momentous occasion. Electrification of the automotive industry is at an inflection point, and this transaction helps us play our part in this transformation," commented Steve Burns, Founder and Chief Executive Officer of Lordstown Motors. "At Lordstown, we have built a differentiated company, and we look forward to combining our EV startup culture with the infrastructure and assets we already have in place in order to successfully achieve our production milestones."
Lordstown Motors, which unveiled the prototype of its flagship Endurance pickup truck in June 2020, remains on pace to commence commercial production in the second half of 2021 at its plant in Lordstown, Ohio. The Endurance's revolutionary use of an in-wheel hub motor design is expected to deliver superior performance, efficiency, and safety, while providing a significant reduction in total cost of ownership for commercial fleet owners. "We have a near production-ready plant and approximately $675 million in proceeds from this transaction, which is more than enough funding to get us through initial production," continued Steve Burns.
"We are thrilled about the successful execution of this merger, which included a PIPE that is backed by General Motors and several long-term institutional investors, and we congratulate Lordstown on achieving this key milestone," commented David Hamamoto, Chairman and Chief Executive Officer of DiamondPeak. "We look forward to our long-term partnership with Steve and the entire Lordstown team as they progress towards being first to market with an electric pickup truck for commercial fleets."
"GM is excited about the progress Lordstown Motors is making because we believe they will help create more good-paying jobs in Ohio and especially in the Lordstown community," said General Motors.
Goldman Sachs served as exclusive financial advisor and Sullivan & Cromwell LLP served as legal advisor to DiamondPeak. Goldman Sachs served as exclusive placement agent on the PIPE offering. Deutsche Bank served as additional capital markets advisor to DiamondPeak. BakerHostetler served as legal advisor to Lordstown Motors.
Category: Electric Vehicles, Featured, Fuel & Oil, General Update, Green, News, Vehicles