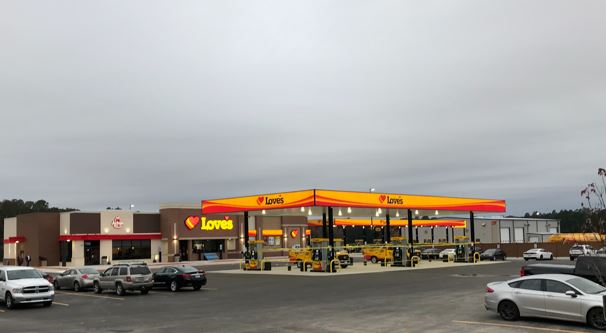 196 truck parking spaces, 169 jobs added
Love's Travel Stops & Country Stores, the nation's industry-leading travel stop network, is now serving customers in Calhoun, Georgia, and Elgin, South Carolina, thanks to two travel stops that opened Thursday. The Calhoun location, located off Interstate 75, adds 70 jobs and 93 truck parking spaces to Gordon County. The Elgin location, located off Interstate 20, adds 99 jobs and 103 truck parking spaces to Kershaw County.
"Love's is pleased to bring two more convenient, clean and friendly locations to the southeast," said Tom Love, founder and executive chairman of Love's. "We're proud to add parking spaces to areas where our customers need them, and both of these locations are conveniently located directly off the interstate."
Both locations are open 24/7 and offer many amenities
In honor of the grand opening, Love's will host a ribbon cutting ceremony at each location. Love's will also donate $2,000 to Belwood Elementary School in Calhoun and $2,000 split between Lugoff-Elgin High School and Doby's Mill Elementary School in Elgin.
Category: Driver Stuff, Featured, Fuel & Oil, General Update, News