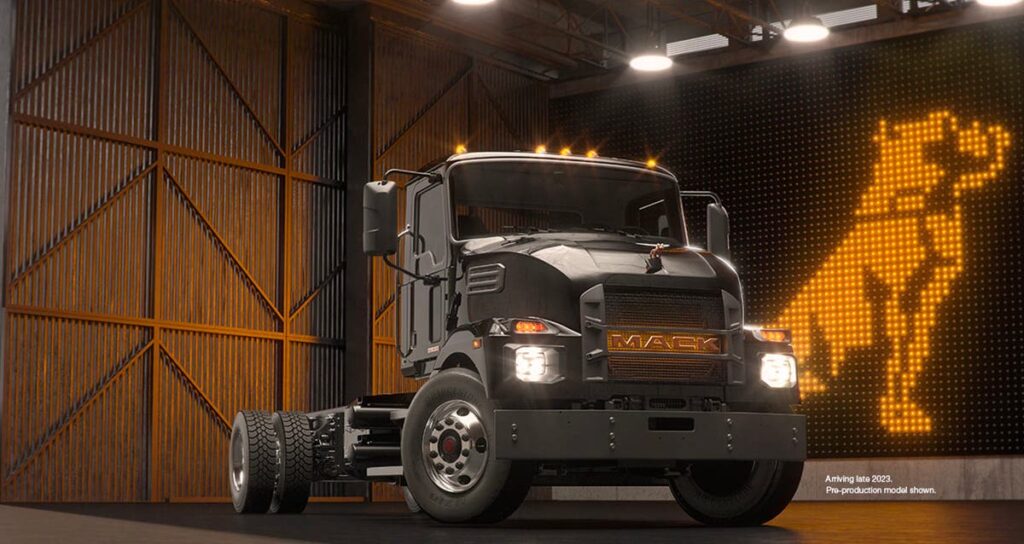 ElectriFi Subscription allows customers to pay as they go for miles driven with chassis and body, charging, applicable incentives, physical damage insurance and maintenance costs
In an effort to help customers more easily adopt battery-electric vehicle (BEV) technology into their fleets, Mack Trucks announced today it now offers from Mack Financial Services ElectriFi Subscription, a usage-based leasing option exclusive to new Mack® MD Electric models.
"Mack Trucks is a leader in electrification, and we remain committed to ensuring customers have reliable, durable electric vehicles and the support necessary to operate them," said Jonathan Randall, president of Mack Trucks North America. "Together with Mack Financial Services, we developed this unique program to assist in the deployment of BEVs through a solution that gives customers peace of mind. Customers can run electric trucks knowing that Mack and Mack Financial Services are standing behind them and the product."
ElectriFi Subscription allows customers to pay as they go for miles driven with chassis and body, charging, applicable incentives, physical damage insurance and maintenance costs for the term of the agreement bundled into a single monthly payment for simplification. ElectriFi Subscription reduces the customer's upfront investment while lowering their long-term risk with the option to walk away at the end of the term. Terms are flexible starting at three years, with an option to extend up to a total term of six years.
The ElectriFi Subscription also comes with access to Mack's suite of Uptime services, including telematics and Mack OneCall™, Mack's 24/7 roadside service and support offering experienced personnel at the Mack Uptime Center who will assist customers with the scheduling of their repair.
Whether it's to investigate the benefits of a single BEV or to completely change a fleet over to electrification, ElectriFi offers a solution for all Mack BEV customers.
Along with the ElectriFi Subscription option, Mack Financial Services also offers ElectriFi Infrastructure and ElectriFi Lease. Mack Trucks and Mack Financial Services can also advise on incentives for infrastructure.
ElectriFi Infrastructure is a turnkey solution that's available for all purchases or leases. Mack along with third-party partners will assist customers in developing the charging station design, installation, construction, hardware and software needed for new BEV charging facilities, alleviating customer guesswork into what is required for adequate infrastructure. All-inclusive financing is available with this option, provided your vehicles are funded by Mack Financial Services, including up to a 60-month loan.
ElectriFi Lease enables customers to add BEVs into their fleets with reduced upfront investment. Customers have access to Mack telematics through the Mack Ultra Service Contract. Mack's Route Support Services team will help customers analyze existing routes, infrastructure upgrades and seamless integration. This offer has full lifecycle financing options and renewable five-year terms.
The Mack Ultra Service Contract is a standard five-year comprehensive bumper-to-bumper service contract for the Mack MD Electric and the Mack LR Electric refuse model. The contract includes telematics with battery monitoring; a high-voltage battery performance guarantee; all scheduled maintenance; all preventative maintenance; all repairs excluding accidents, tires and glass; towing for warrantable failure to the nearest Mack Certified Electric Vehicle (EV) Dealer; and Mack OneCall.
"Mack and Mack Financial Services have given customers several optimized financing options that will help support their businesses," said George Fotopoulos, Mack vice president, e-mobility business unit leader. "ElectriFi Subscription, the other financing options and the Mack Ultra Service Contract were designed to help remove any hesitancy about financing, service and support that customers might experience as they electrify their fleets."
Mack introduced the Mack MD Electric in March 2023. The MD Electric complements its highly efficient, diesel-powered MD model sibling, which has experienced growing customer demand since its introduction in 2020. The addition of a zero-tailpipe emissions BEV to the Mack medium-duty lineup supports the company's long-term sustainability goals.
The MD Electric is available for order and, like its diesel counterpart, is available in Class 6 and Class 7 ratings. The Class 6 has a Gross Vehicle Weight Rating (GVWR) of 25,995 pounds, and the Class 7 model has a GVWR of 33,000 pounds. Both models are exempt from the 12 percent Federal Excise Tax (FET).
The MD Electric will meet the needs of trucking applications requiring dry van/refrigerated, stake/flatbed and dump vocations. The MDE6 model does not require a Commercial Driver's License (CDL) to operate for non-hazardous payloads.
The MD Electric is supported by Mack Certified Electric Vehicle (EV) Dealers. To become EV-certified, dealers are required to meet stringent safety, infrastructure, charging and tooling requirements. Mack executives work closely with dealer leadership to ensure all requirements are met before certification and that the transition is smooth.
For more information about ElectriFi Subscription, ElectriFi Infrastructure, ElectriFi Lease, Mack Ultra Service Contract or the MD Electric, please visit your local dealer or www.macktrucks.com.
Category: Cab, Trailer & Body, Cab, Trailer & Body New, Connected Fleet News, Electric Vehicles, Equipment, Featured, Fuel & Oil, General Update, Green, News, Products, Tech Talk, Vehicles