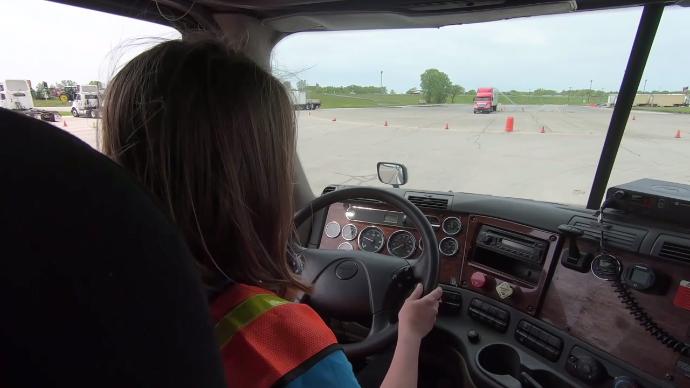 While a generation struggles to find rewarding employment, the U.S. faces a shortage of essential workers in the trucking industry
By 2025, the Millennial generation, those born between approximately 1983 and 2000, will make up 75 percent of the American workforce.1 Millennials also, along with Generation Z (18- to 21-year-olds), report high levels of stress due to high unemployment, high underemployment and high student loan debt.2 Meanwhile, an occupation essential to the nation's economy, long-haul trucking, is approaching a crisis-level shortage of workers.3 "For thousands of Millennials," says John Kearney, CEO of Advanced Training Systems LLC, "the trucking industry represents a real opportunity." Kearney, whose company is a leading designer and manufacturer of virtual simulators for driver training, advocates for younger people to join the trucking profession. "The industry simply needs to do a better job of explaining what that opportunity is."
Unemployment and security appear to be top-of-mind concerns for younger workers in the U.S. A recent national survey shows:
Two-thirds of Millennials have at least one source of long-term debt (frequently college loans)
78 percent said they are worried about having well-paid job opportunities
74 percent are afraid they won't be able to pay their healthcare bills if they get sick
79 percent are afraid they won't have enough money to live on when they retire.4
As only 34 percent of Americans go on to post-secondary education5, these concerns are being voiced both by college graduates and those entering the workforce directly after high school. Moreover, notes Kearney, 43 percent of today's college graduates take jobs that do not require a college degree.6
The truck driver shortage, meanwhile, has been building for a quarter century; in recent years it has been exacerbated by a sharp increase in freight demand, a wave of baby boomer retirements and very high turnover—94 percent at one point in 2018. The turnover rate, according to American Trucking Associations, is not a measure of the driver shortage, but of demand for drivers.7
Trucking companies, notes Kearney, have been responding to this situation in three basic ways:
Recruiting drivers who don't fit the traditional trucker mold
Making the job easier through Artificial Intelligence and other technologies
Raising pay
The average driver salary is now around $60,000 and comes accompanied by a 401(k), healthcare benefits and paid time off. Some trucking companies are also upping the ante by offering signing bonuses and free online college tuition.8
While there have been predictions about—and progress toward—autonomous self-driving trucks, both truck manufacturers and the motor freight industry agree that their widespread use is many years away.9 Even then, says Kearney, there will still be a need for trained and qualified human operators.
"We have that situation with airline pilots now," Kearney says. "A lot of the work of flying a plane has been automated in recent years, but you still need a crew in the cockpit."
Trucking is like aviation in another way, he adds, in that much of the training for the job is now done with electronic simulators. "The simulator is like the gaming consoles a lot of young people are used to," he says, "only it's not a game. The simulator gives you a very realistic experience—it replicates not just the sights and sounds of driving a truck at speed, but the actual feel. It prepares the student for anything he or she might encounter, including things too dangerous for live, behind-the-wheel training. It produces safer, better-trained drivers."
Category: Driver Stuff, Featured, General Update, News