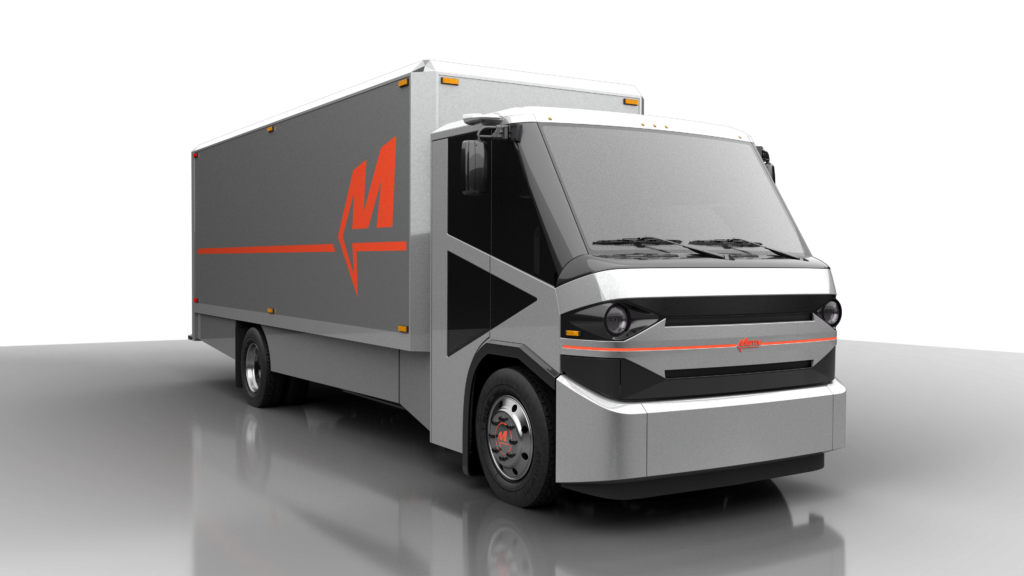 New cab is designed with extensive driver feedback gathered from 2.8M customer miles driven in Motiv's medium-duty electric vehicles
Motiv Power Systems, the leading innovator of EV trucks and buses driving the backbone of modern commerce, announced the new Argo Series electric truck featuring the first medium-duty EV cab designed from the ground up, with customer-driven miles and fleet owner feedback built in. The launch of Argo is a strategic step for Motiv that will triple the company's market size and equip it to help even more companies scale their electric fleets.
The Argo Series is designed to support all medium-duty applications across Class 4-6 — including box trucks, step vans, shuttle buses, refrigerated vehicles, vocational vehicles, and other specialties — and is built on top of Motiv's next-generation powertrain, including industry-leading torque and a 150-200 mile range LFP battery.
Motiv is a longtime EV truck company with more than 14 years of experience providing all-electric vehicles capable of moving 2-6-ton payloads for industry leaders like Cintas, Bimbo Bakeries, and Purolator. Motiv has deployed more than 180 vehicles and driven more than 2.8 million miles with fleets across North America, gaining unparalleled experience transitioning fleets, refining truck capabilities, and delivering high-quality performance.
Motiv's track record and growing footprint with medium-duty fleets — which includes logging more than 70 thousand customer miles a month — provides a unique foundation for delivering new, cutting-edge vehicles designed with insights from depot managers and drivers running daily routes. What's more, Motiv's Argo Series comes at a time of unprecedented growth in the market for medium-duty EVs, driven by incoming regulations and ESG commitments.
"The market is demanding a proven solution that enables companies to confidently scale their EV vehicle fleets, which is where Motiv steps in: Argo combines our proven powertrain technology with a new driver-centric cab to deliver an unparalleled EV experience," said Tim Krauskopf, CEO of Motiv Power Systems. "In California for example, the Advanced Clean Fleet Rule is set to go into effect on January 1, 2024, and the state needs roughly 20,000 new zero emission medium-duty EVs on the road by the end of 2024. The Argo Series will help meet the growing demand of many companies waiting for an EV solution capable of supporting a wide range of applications."
"After years of helping fleets put EVs on the roads, Motiv has the right combination of daily route experience and expertise to design and build its own cab — the next step toward becoming a full-featured original equipment manufacturer," said Jim Castelaz, Motiv's Founder and CTO. "Many have joined the commercial EV space by jumping in headfirst and starting with ultra-modern, flashy designs that don't always offer practical driving experiences. Motiv, on the other hand, has carefully applied insights gathered over the last decade to create Argo, a truck that marries the reliability and work focus of Motor City with Silicon Valley innovation."
The new Argo vehicles will boast a futuristic cab that was designed from the ground up for an electric vehicle, distinguishing it from traditional internal combustion trucks while maintaining the utility of the vehicle. Key design features promote:
Energy Efficiency: Energy optimization is everywhere in the Argo cab's composite structure, including windshields with built-in heat to save on defrosting energy, seats heated with specially-designed airflow, and a shorter bumper-to-back-of-cab distance to create more maneuverable trucks. The weight savings of composites means more payload, offsetting incremental battery weight.
Command Seating Position for Driver Comfort: The Argo cab features a Command Seating Position informed by customer experience to relieve driver fatigue and decrease work compensation-related injuries. This feature provides superior visibility and ergonomics compared to conventional cabs, includes sightlines at the four points of the vehicle, incorporates lower belt lines for better visibility, and features door access with full size interior steps.
Safety: The Argo Series leverages both active and passive safety features, and provides best-in-class visibility and ingress/egress for the driver, reinforcing safety at every turn.
Superior Thermal Performance: Built from structural composites, the Argo cab outperforms other cabs for both heating and cooling. Using less battery energy to keep the driver comfortable translates to more energy available for driving range. The advanced thermal performance also lends itself to less road noise, ultimately reducing driver fatigue.
The Argo Series vehicles are currently available for pre-order and will be on the road in late 2024. Argo vehicles will be manufactured in the U.S. and are eligible for the IRA tax credit and as well as select incentives programs. For more information, visit: www.motivps.com.
Category: Cab, Trailer & Body, Cab, Trailer & Body New, Electric Vehicles, Equipment, Featured, General Update, News, Products, Tech Talk, Vehicles