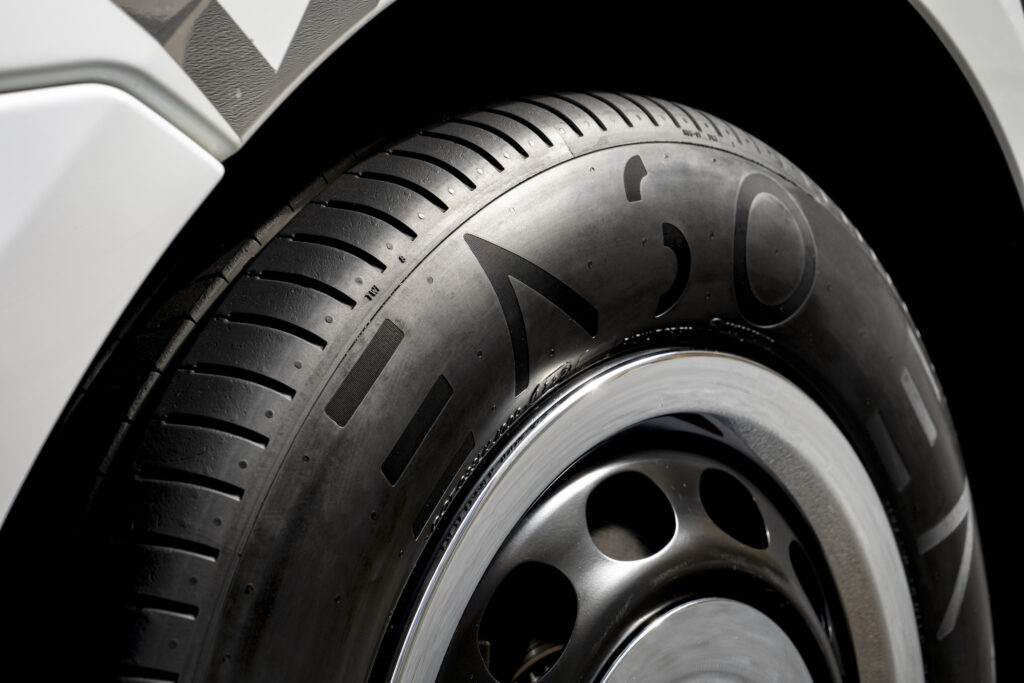 78% did not know that electric vehicles wear down tires faster than conventional combustion cars, a fact which will lead to increased pollution as EV uptake increases
A first-of-its-kind study by British-based tire manufacturer ENSO has revealed the acute lack of public awareness surrounding the tire pollution crisis. The company has introduced a more durable, energy-efficient tire designed specifically for electric vehicles (EVs) – which can wear their tires 20-50% faster than traditional combustion-powered vehicles due to their additional torque and weight. 
A nationwide survey of 5,000 U.S. adults commissioned by ENSO found that less than one in four (22%) Americans identified tires as a major contributor to air pollution, behind gasoline emissions (63%), diesel emissions (61%), engine oil (45%), and level with EV batteries (22%) that are emission-free whilst driving. Recent studies show that vehicle tires can produce up to 2000 times more harmful particulate emissions – in the form of tire dust particles – than tailpipes, the survey highlights the scale of the problem and the lack of public information surrounding it.  
Air pollution was one of the key areas in which public awareness fell short, with a majority (82%) of the U.S. public unaware that microplastics from tire pollution end up polluting rivers and oceans. In fact, tires are responsible for 28% of all primary microplastics in the world's oceans and tire pollution is only set to drastically increase as EV adoption accelerates. 
According to Michelin and Goodyear, EVs can wear their tires 20–50% faster than combustion vehicles, due to their greater weight and torque – a fact known by less than a quarter (22%) of survey participants. This means that EVs generally need more frequent tire replacements, increasing both total cost and environmental impact. 
ENSO was founded to create 'Better Tires for Electric Vehicles', drive innovation and disrupt the tire industry. ENSO has engineered tires designed to perform in harmony with the unique characteristics of EVs. Its goal is to significantly reduce the environmental impact of tires on EVs by introducing better tire technology to extend EV range and energy efficiency as well as providing more durable tires that produce less harmful tire dust emissions whilst still being affordable for customers. 
Reflecting this ethos, a significant number (46%) of Americans would be encouraged to buy a set of tires if they were made from fewer toxic materials than other tires, if they produced fewer emissions (43%) and if they were made from recycled material (41%).
As the world's first certified B Corporation tire manufacturer, ENSO's ultra-energy-efficient tires have already achieved 'A' energy efficiency ratings in Germany and Spain and are now helping taxi drivers in London reduce their environmental impact and increase their vehicle range. A recent trial led by Transport for London concluded that ENSO tires outperformed mainstream competitor products, delivering a 10% improvement in overall energy efficiency, and a 35% reduction in particulate matter emissions. 
Speaking on the release of the survey results, ENSO Founder and CEO, Gunnlaugur Erlendsson, said: "When a tire meets the road it creates friction, resulting in tire dust particles being released into the air or swept into waterways. There are currently no regulations controlling this underreported form of pollution. At ENSO we are tackling this firstly by raising awareness of the underlying problem and, vitally, by providing an affordable, longer-lasting, less-polluting tire designed exclusively for the needs of EVs. 
"In the absence of meaningful regulations or incentives for the tire industry to evolve, empowering drivers to make more informed choices, and demonstrating the economic viability of less-polluting tires, will be the most effective ways of initiating impactful change for the planet."
The survey of 5,000 U.S. adults was conducted by OnePoll on behalf of ENSO in April 2023. 
Category: Driver Stuff, Equipment, Featured, Fleet Diagnostics & Software, Fleet Maintenance, General Update, Green, News, Products, Safety, Shop Stuff, Transit News, Wheels & Tires