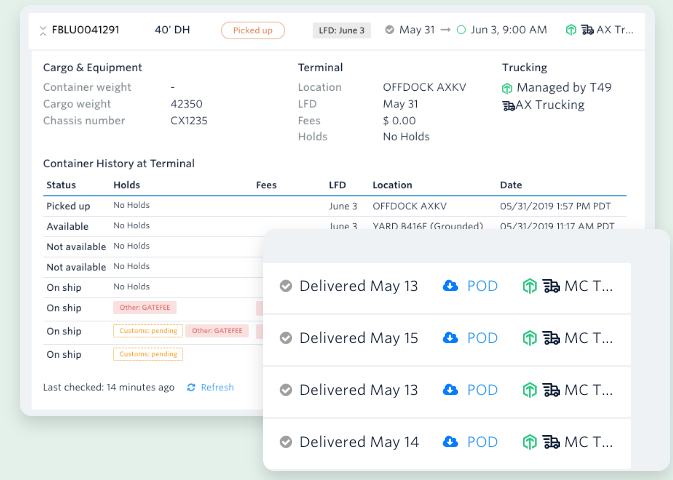 Terminal 49 Introduces Tracey, a Track and Trace Solution For Importers, Brokers, and Freight Forwarders
Terminal 49 says it has launched Tracey to help track and trace global shipments and containers. Built with importers, brokers, and freight forwarders in mind, the free tool delivers end-to-end visibility on a single platform for effective real-time shipment management. Users enjoy greater control and transparency and can make more informed decisions that enhance the logistics experience.
Those first to try Tracey already see the benefits. "Before implementing Terminal 49's solution, there was no transparency or visibility," notes Alberto Buenrostro, Inventory Manager. "The majority of my time was spent hassling truckers — without response — in an attempt to track down my containers. After using Tracey to track and trace my containers, I enjoy the convenience of using one dashboard to check on appointments at ports and warehouses. It's now so easy to track my containers in real-time. In return, my clients the transparency they expect."

Tracey delivers critical details about a shipment without having to go to individual shipping line websites. Users visit the Track and Trace website. Once there, they enter BL/Booking number for their ocean shipment and select the shipping line. Users receive all the information about that shipment, including the shipping line, origin and destination, vessel and voyage, and container numbers with type. Even if there are multiple shipping lines involved, all can be tracked from one page instead of visiting multiple sites.
According to Akshay Dodeja, Founder and CEO of Terminal 49, "As a service provider, we're passionate about removing inefficiencies from the shipment, container, and logistics industry while reducing the costs associated with global trade. Tracey helps our clients get the immediate real-time information they expect. In turn, translates to a better overall UX from your company. In developing an avatar to personify our track and trace solution, we further our goal of serving as a partner for our clients rather than operating as just a software company."
Category: Featured, General Update, News