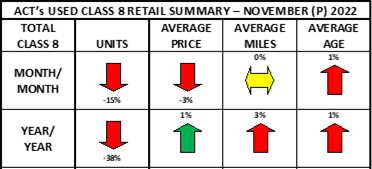 ACT Research said "Despite the somewhat dour news regarding slowing sales and lower prices, there are numerous examples of solid performance peppered throughout the industry"
Preliminary used Class 8 retail volumes (same dealer sales) decreased 15% month-over-month, and were 38% lower compared to November of 2021, according to the latest preliminary release of the State of the Industry: U.S. Classes 3-8 Used Trucks published by ACT Research.
Other data released in ACT's preliminary report included month-over-month comparisons for November 2022, which showed that average retail price declined 3%, average miles remained flat, and average age increased 1% from October's readings. Compared to November of 2021, the average retail price was 1% higher, with average miles and age both greater by 3% and 1%, respectively.
According to Steve Tam, Vice President at ACT Research, "Positively, the average retail sales price of Class 8 trucks sold in November was above $80,000. Unfortunately, that means prices fell 3% compared to October." He continued, "There is no escaping the reality that is excess freight hauling capacity in a declining economy and freight market. That simple fundamental imbalance carries quite a bit of sway when it comes to used truck pricing. The average retail used truck price has descended into negative y/y territory for the first time since August 2020. Welcome to the new normal."
Tam concluded, "Despite the somewhat dour news regarding slowing sales and lower prices, there are numerous examples of solid performance peppered throughout the industry. A quick scan of the preliminary Used Trucks report shows several instances of high-volume truck models whose prices have yet to throw in the towel. The challenge is no different than it has ever been."
Category: Cab, Trailer & Body, Equipment, Featured, General Update, News, Products, Vehicles