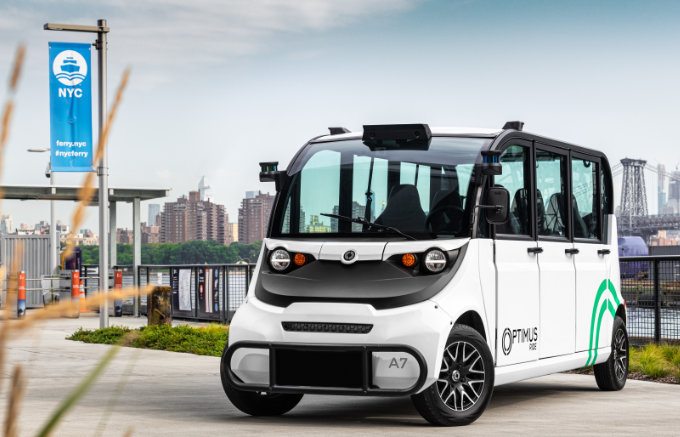 Velodyne Sensors Deliver Industry-Leading Range and Resolution to Optimus Ride Fleet
Velodyne Lidar, Inc. says that Optimus Ride will use Velodyne's groundbreaking lidar sensors in its entire fleet of self-driving vehicles. The sensors provide rich computer perception data that enables real-time object and free space detection for safe navigation and reliable operation. Optimus Ride, a leading self-driving vehicle technology company on a mission to transform mobility, will soon be operating its self-driving systems in four U.S. states.
"Velodyne's sensors provide powerful lidar solutions that help us ensure our self-driving vehicles are the smartest and safest on the road today," said Dr. Ryan Chin, Optimus Ride's CEO and co-founder. "For Optimus Ride to operate a fleet at SAE Level 4 requires significant sophistication, intelligence, range and resolution. Velodyne's technology meets these high standards."
Optimus Ride operates self-driving vehicles that provide passenger transportation at low speeds within defined, geofenced areas such as planned communities, campuses and self-driving zones in cities. The company's vehicles are currently deployed in Boston's Seaport District, South Weymouth, Mass. and at the Brooklyn Navy Yard in Brooklyn, New York. Optimus Ride's deployment in the Navy Yard is the first commercial deployment of self-driving vehicles in the state of New York. Optimus Ride will soon deploy at Paradise Valley Estates in Fairfield, Calif. and Brookfield Properties' Halley Rise development in Reston, Va.
Using Velodyne sensors, Optimus Ride can precisely locate the position of people and objects around its vehicles, as well as calculate their speed and trajectory. With that information, the vehicle's on-board computer system determines how to drive to its destination.
"The Optimus Ride fleet showcases how Velodyne's intelligent lidar sensors are helping companies place autonomous vehicles on the road today," said Mike Jellen, President and CCO, Velodyne Lidar. "Optimus Ride has an ingenious approach to providing people with access to efficient and convenient self-driving mobility – effectively solving the first-and last-mile problem."
Category: AUTONOMOUS, Connected Fleet News, Featured, Fleet Tracking, General Update, News