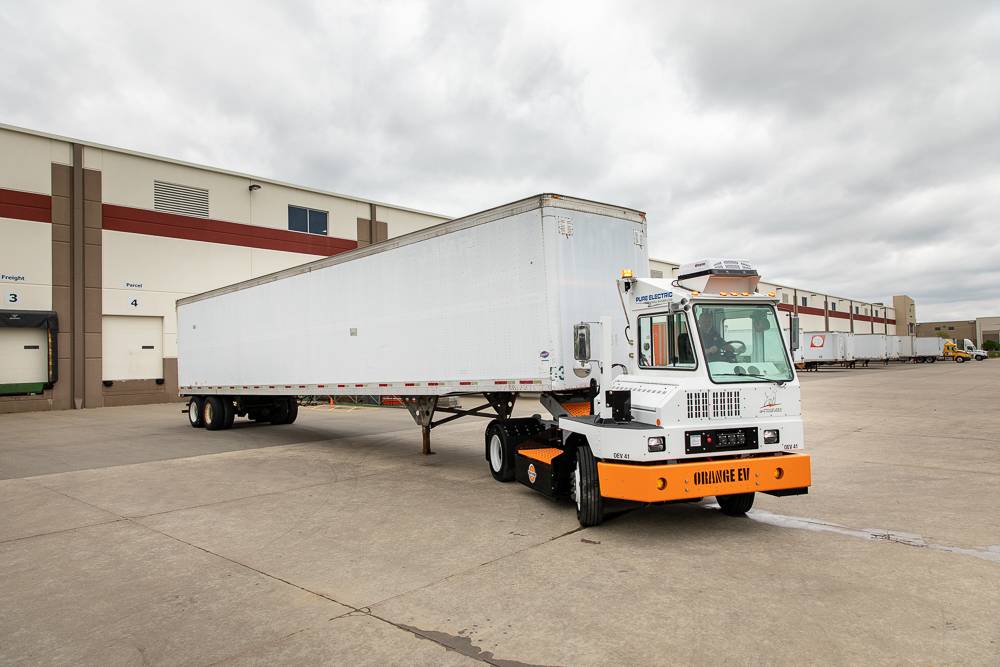 Purchasing, renting, or leasing each Orange EV zero-emission truck can offset more than $1 million in South Coast AQMD WAIRE mitigation fees
Orange EV, the leading manufacturer of zero emission (ZE) yard trucks in the United States, is providing warehouse operators in Southern California with turnkey solutions to meet – and even exceed – their annual WAIRE compliance obligations.
Every year under the Warehouse Actions and Investments to Reduce Emissions (WAIRE) Program, affected warehouse operators in the South Coast Air Quality Management District (AQMD) must earn their required WAIRE points or pay a mitigation fee of $1,000 per point. Operators acquiring and using just one Orange EV yard truck and charging cabinet are earning more than 1,400 WAIRE points in one compliance period. With heavier use, one Orange EV truck and charger can earn more than 2,000 points, the equivalent of $2 million in mitigation fee offsets. Excess points earned above the operator's compliance obligation can be banked for use in future compliance periods.
The South Coast AQMD WAIRE program is the first of its kind in the United States, regulating warehouses as indirect sources of emissions. WAIRE utilizes a menu-based point system, giving operators flexibility to meet compliance obligations. Of the more than 30 options provided, "Use ZE Yard Truck" is arguably the most attractive, earning operators 291 points per 1,000 hours of operation. Preliminary results from the first Annual WAIRE report revealed that 44% of all WAIRE points earned were from ZE yard truck usage.
One-time points are earned when installing Orange EV charging cabinets and acquiring Orange EV trucks through purchase, lease, or rental. Then the "Use ZE Yard Truck" points can be earned year after year, much like the points earned from truck charging.
"Setting WAIRE aside, Orange EV electric trucks are less costly to operate and more reliable than diesel, saving fleets money and improving operations while providing a safer, healthier work environment," said Zack Ruderman, Orange EV VP of Sales and Marketing. "When factoring in the potential cost of WAIRE mitigation fees, however, the choice is even more obvious: Orange EV's proven and preferred yard truck solution can save fleets millions."
Operators utilizing the Orange EV Rental Program are also earning significant WAIRE points for each truck, potentially earning more than $80,000 per month in mitigation fee offsets. All Orange EV rentals are delivered with chargers that can be installed in a day and typically fit within a building's current electrical capacity.
The WAIRE program affects thousands of warehouses in the South Coast AQMD region, many of which are owned and operated by companies across the United States. While the affected area generally includes Orange County, western San Bernardino County, western Riverside County including the Coachella Valley, and southern Los Angeles County, owners and operators of warehouses elsewhere in California should take note: the San Diego Air Pollution Control District is considering a similar program and other air districts could follow.
Orange EV offers a downloadable WAIRE information guide at https://orangeev.com/waire-program/ that outlines the potential WAIRE points earned and dollars saved by acquiring, operating, and charging Orange EV trucks and chargers.
The Orange EV e-TRIEVER® is an all-electric Class 8 yard truck currently deployed by more than 170 fleets in 33 states and Canada, and explicitly designed to be a superior option to other yard truck offerings no matter how they are powered (diesel, natural gas, electric, etc.). These zero-emission vehicles can be used indoors or outdoors and are driver friendly, with low noise and vibration and smooth acceleration and deceleration. They can handle 81,000 lbs. GCWR, operate at speeds up to 25 mph, and fully recharge in as little as two hours.
Category: Cab, Trailer & Body New, Electric Vehicles, Engines & Drivetrains, Equipment, Featured, Fuel & Oil, General Update, Green, News, Tech Talk, Transit News, Vehicles