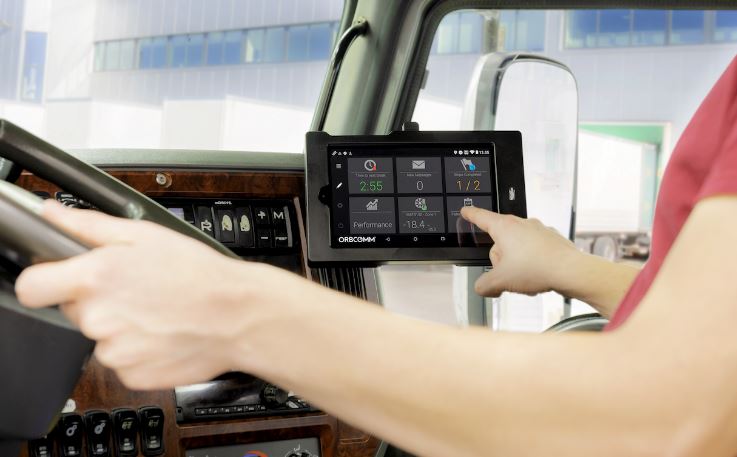 Integrates ORBCOMM's ELD software with Samsung tablets to create a scalable in-cab platform to help fleets improve operational efficiency and driver productivity
ORBCOMM Inc. a global provider of Internet of Things (IoT) solutions, today announced the availability of a new in-cab fleet management solution that leverages powerful mobile technology from Samsung Electronics America (Samsung). The solution combines ORBCOMM's Electronic Logging Device (ELD) and reporting and analytics from its FleetManager platform with Samsung tablets, enabling fleets to build a scalable productivity hub and connected driver ecosystem that can help retain drivers, boost customer satisfaction through better service and reduce costs with improved asset and resource utilization.
The truck management solution is available on Samsung's ruggedized Galaxy Tab Active2 and Galaxy Tab A 8.0 tablets, which are secured with Samsung Knox, the company's defense-grade enterprise mobile security platform, to safeguard fleet data. By converging internal or third-party, Android-based productivity and efficiency applications with a tablet, fleets can connect their drivers, schedules, assets, back-office and customers seamlessly through one in-cab screen. The easy-to-use Samsung tablets help drivers track orders, capture signatures and take notes through fast data processing and high-resolution cameras for optimal efficiency.
"By bringing together ORBCOMM's best-in-class ELD solution with the advanced Samsung tablet technology, customers can streamline their fleet operations and become more profitable," said Chris MacDonald, ORBCOMM's Senior Vice President and General Manager, Americas. "Together with Samsung, we are providing fleet managers with the comprehensive tools they need to improve the driving experience, increase customer satisfaction and reduce IT risks and admin costs."
"Samsung's B2B tablet solutions are designed to be versatile and customizable to solve the evolving business needs of today's organizations," said Taher Behbehani, Head of B2B Mobile, Samsung Electronics America. "Through collaboration with ORBCOMM, this new truck management solution is easy to deploy and use, helping driving fleets stay connected to maximize efficiency, productivity and security across operations."
Category: Connected Fleet News, Driver Stuff, Featured, Fleet Tracking, General Update, News