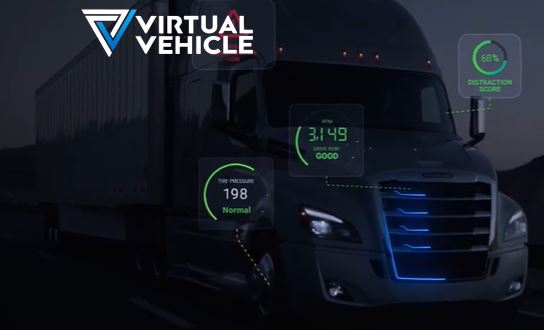 The native OEM platform provides fleets with greater flexibility, tools to boost efficiency and strengthen driver experience
PACCAR and Platform Science announced a new collaboration to integrate Platform Science's Virtual Vehicle™ in Kenworth and Peterbilt trucks. Virtual Vehicle™ is an open OEM platform that enables fleets to access telematics, software solutions, real-time vehicle data, and third-party applications directly from their vehicles. With Virtual Vehicle™, Kenworth and Peterbilt customers will have access to a customizable platform that delivers an unlimited canvas to fleets, elevating their capabilities to innovate and utilize, manage and deploy digital applications.
"Virtual Vehicle brings a whole new dimension of adaptive ingenuity to trucks, empowering fleets to tap into a broad suite of solutions that precisely meet their needs," said Jack Kennedy, co-founder & CEO, Platform Science. "For more than a century, PACCAR has been a leader in designing, developing and manufacturing world-class transportation solutions, and we are proud to collaborate with their team to extend our platform into their trucks."
The Virtual Vehicle platform, which PACCAR will deploy in its Kenworth and Peterbilt trucks beginning in 2024, offers many benefits to fleets, including:
PRODUCTIVITY: With factory-installed telematics hardware, fleets can maximize uptime by avoiding installation delays and costs for complementary hardware.
FLEXIBILITY: Virtual Vehicle allows fleets to create a software experience catered to individual business needs through a growing pipeline of developer-created innovations.
ACCESSIBILITY: Virtual Vehicle leverages edge, cloud and in-dash data to optimize networks, keeping data available 24/7/365, even when fleets are offline.
COST-EFFECTIVE: Users of participating applications on Virtual Vehicle benefit from usage-based billing.
"TruckTech+ has built a great foundation for the Kenworth connected vehicle since 2017. Through this partnership Kenworth will expand its telematics system to provide customers with third party applications through the Virtual Vehicle platform," said Kevin Baney, Kenworth general manager and PACCAR vice president. "Fleets will benefit from enhanced operating efficiencies through access to software solutions, real-time vehicle data, and third party applications directly from their connected Kenworth trucks."
"The new services powered by Virtual Vehicle will leverage the existing connectivity capabilities of our heavy- and medium-duty truck platforms," added Bart Lore, senior director, PACCAR Global Connected Services. "Thanks to the new app ecosystem, Peterbilt vehicles will take a quantum leap in terms of uptime and integration to existing fleet management solutions."
Category: Cab, Trailer & Body, Connected Fleet News, Driver Stuff, Featured, Fleet Diagnostics & Software, Fleet Tracking, General Update, News, Products, Safety, Tech Talk, Tools, Vehicles