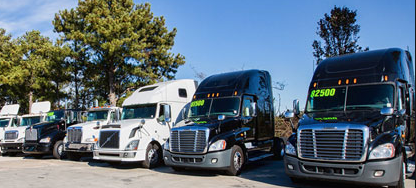 As Prices Fall, Miles Rise and Age Is Unchanged
Preliminary used Class 8 volumes (same dealer sales) grew 42% month-over-month and 6% year-over-year in October, according to the latest preliminary release of the State of the Industry: U.S. Classes 3-8 Used Trucks published by ACT Research, but year-to-date preliminary volumes dropped 17%.
Other data released in ACT's preliminary report included month-over-month comparisons for October 2019, which showed that average prices dropped 10%, average miles increased 2%, and average age was unchanged compared to September 2019.
According to Steve Tam, Vice President at ACT Research, "The biggest volume change in almost four years and the largest price drop in three years call to mind how truck sellers and buyers are behaving in today's market." He continued, "For their parts, sellers are probably getting creative, looking to markets they do not traditionally serve in their efforts to move inventory, while for buyers, the change might not be as subtle." Tam added, "With the average selling point below the $40,000 mark for the first time in more than two years, prices appear to have reached the point where they are too good to pass up."
Commenting on individual market channel volumes, Tam noted, "The retail, auction, and wholesale markets rose 33%, 69%, and 64% month-over-month, respectively, while longer-term comparisons revealed year-over-year improvements of 4%, 5%, and 14%, respectively."
Category: Equipment, Featured, General Update, News