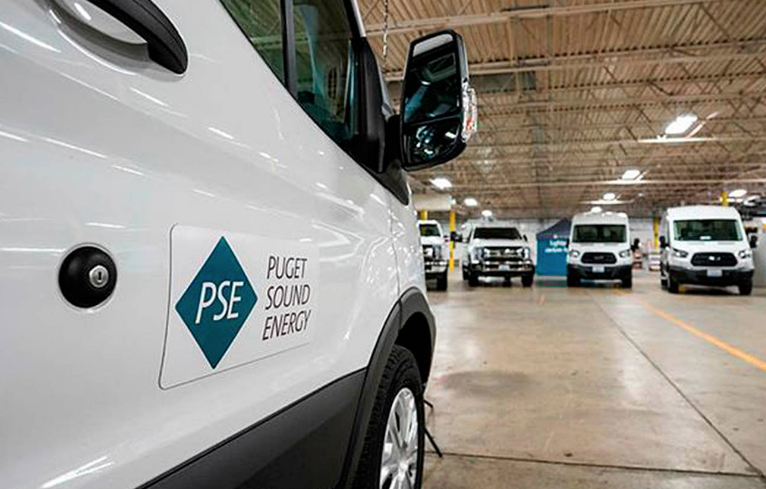 Washington's largest utility, Puget Sound Energy (PSE), has added 110 hybrid vehicles to date in its effort to cut its carbon footprint in half by 2040.  The provider is XL, a leader in connected vehicle electrification solutions for commercial and municipal fleets.
By way of background, Puget Sound Energy (PSE), serves nearly 2 million customers, has expanded its electrified fleet with 40 XL-equipped hybrid Ford vehicles, including Transit vans and F-250s.
With its latest order, Puget Sound Energy now has 110 work trucks equipped with XL's hybrid technology, with more anticipated being added later this year. XL's hybrid system has been proven to improve fuel economy by an average of 25% while reducing carbon emissions by 20%, and the utility continues to take a leadership role in helping the state of Washington meet its strong sustainability goals.
Puget Sound Energy is supporting these efforts through the electrification of its fleet vehicles. The hybrid vans will support natural gas first responders, and its hybrid pickup trucks will serve natural gas inspectors and related routes, covering about 6,000 square miles over 10 counties and major metropolitan areas. These vehicles do not have a return-to-base policy, and are typically parked at drivers' homes since they are needed for emergency response, so it's helpful that they don't need a charging station or other hub in order to deploy them, PSE reports.
"With roughly 43 percent of carbon emissions in Washington state coming from transportation, we are committed to accelerating the adoption of electrified vehicles," said Colin Davidson, fleet logistics manager at Puget Sound Energy. "By continuing to upfit our Ford Transit vans and F-250s with XL's hybrid technology, we will make significant progress towards achieving our goal to reduce our carbon footprint by 50 percent by 2040, without worrying about infrastructure requirements or high maintenance costs."
"Utilities are among the leading drivers of advancing electrified vehicles in the fleet industry," said Tod Hynes, CEO of XL. "PSE continues to demonstrate their commitment to sustainability to Washington residents, while showcasing the enormous impact that cleaner, more fuel efficient fleet vehicles can have on a business and the community at large."

Category: General Update, Green, News