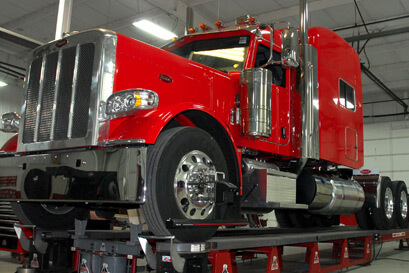 New integration pairs the leading heavy-duty repair solution with a best-in-class centralized fleet payment experience 
RoadSync digital financial platform for the supply chain, announced with Fullbay that the two organizations have partnered together to provide a fully embedded fleet payments experience within Fullbay's leading heavy-duty repair shop management platform – a significant step forward in the trucking industry.  
With this new product integration, repair shops utilizing Fullbay Payments can leverage RoadSync's fleet payment APIs within their existing Fullbay account to accept and manage fleet checks and fleet cards. Through this partnership, RoadSync helps speed up and reduce back-office effort, enables fuel card and fleet check acceptance, and provides Fullbay with an essential feature for its robust shop management platform. 
"By powering fleet payments within partner platforms, we can serve customers conveniently within the solutions they use regularly and extend our reach," stated Robin Gregg, CEO, RoadSync. "Partnering with Fullbay was a natural next step for us, as our visions for the industry align closely. Together, we're propelling forward solutions that are more effective, efficient, and safe for critical businesses."  
"Working with RoadSync to offer fleet payments was an easy choice," noted Patrick McKittrick, CEO, Fullbay. "Fullbay is constantly innovating to provide the best solution for commercial maintenance operations and this partnership allows us to ensure fleet payment collection and processing is frictionless. We see this as a big win for both organizations in terms of improving payment solutions for commercial repair shops."
The original innovator in the logistics payments space, RoadSync is proud to support fleet payments in Fullbay's enhanced payment solution. RoadSync's open platform connects to major fleet card and fleet check providers across the industry. To learn more about RoadSync's suite of solutions and how the company is advancing payment processes for the entire supply chain, visit www.roadsync.com. 
Category: Breaks, Suspensions & Chassis, Engines & Drivetrains, Equipment, Featured, Fleet Diagnostics & Software, Fleet Maintenance, General Update, News, Shop Stuff, Tech Talk, Tools, Vehicle Lifts, Vehicles, Wheels & Tires