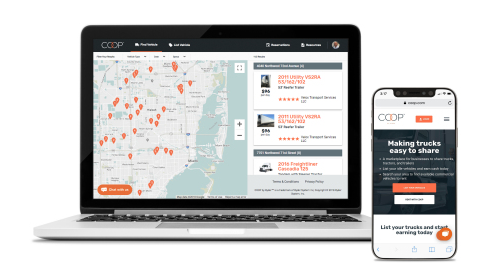 The sharing economy is coming to commercial vehicle usage — quickly. Consider this: COOP by Ryder is now available in South Florida.
The truck sharing platform, the first of its kind for commercial vehicles, allows fleet owners to generate revenue by sharing idle trucks & trailers while providing a new source of rental vehicles.
"With close to half a million registered commercial vehicles in Florida and a richly diverse mix of businesses that experience seasonality, the South Florida market represents great opportunities for lenders and borrowers of trucks to connect on COOP to generate revenue from idle vehicles and move business forward," said Rich Mohr, General Manager for COOP by Ryder.
"In Atlanta," he continued, "we witnessed plenty of success in 2018 where more than 300 companies in the metro area reaped the benefits of COOP and we're confident this innovative service will be a value to businesses in Ryder's home state of Florida. I would encourage businesses and fleet owners to explore the marketplace to learn how they can profit from their idle vehicles."
South Florida is home to the Port of Miami, one of the top 10 ports in the U.S. and one of the world leading hubs for global commerce, leading to heightened transportation and trucking needs. The region is also experiencing major capacity constraints stemming from nationwide truck utilization pressure. Seasonality spikes in the area, especially around flower and tourism season, are also contributing to a need for available box trucks, semi-trucks, trailers and refrigerated vehicles in the region. COOP is part of the solution to these challenges.
Atlanta-based companies including The Atlanta Opera, Sutherland's Foodservice, and Crossover Entertainment Group have seen a notable positive impact on their bottom lines from lending and borrowing underutilized trucks with COOP. In less than a year, the digital platform has generated substantial results for businesses:
Companies that have used COOP to share its trucks have generated nearly $7,000 on average since signing onto the platform
Several COOP lenders have netted over $30,000 on the platform
Since launch, the digital platform has been enhanced to include Ryder's 24/7 roadside assistance and free Uber™ rides to a pick-up location for borrowers. In addition, COOP offers a revenue calculator to assist lenders with estimating their earning potential. Based on user feedback, replacement vehicle coverage and advanced user ratings were added to the platform as well. In early 2019, lenders will also be able to set their own prices and access revenue summary analytics. Additionally, a mobile application will be available for Android and iOS users in 2019.
How COOP works
COOP is a peer-to-peer sharing platform that allows businesses to simply and safely rent commercial vehicles from each other. Fleet owners can list their vehicles on the digital platform, set vehicle availability for idle periods, and upon vehicle return receive guaranteed payments from Ryder. All COOP users are vetted to ensure they comply with safety and reliability standards. Each transaction is covered by physical damage insurance and a $1 million liability policy and includes 24/7 roadside assistance.
Businesses interested in joining the program can connect with a COOP expert on COOP.com to learn how to gain access and list idle vehicles on the platform.
Category: General Update, News