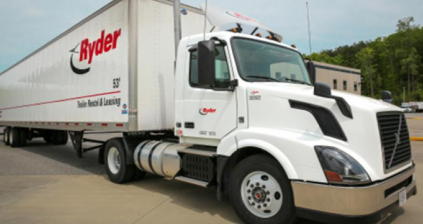 Ryder will also combine its supply chain and dedicated businesses under the leadership of Steve Sensing, president of Global Supply Chain Solutions
Ryder System commercial fleet management, dedicated transportation, and supply chain solutions, announced John Diez, president of its Dedicated Transportation Solutions (DTS) business has been newly appointed to the role of president of Fleet Management Solutions (FMS), replacing Dennis C. Cooke. Mr. Cooke will leave Ryder to pursue other opportunities, but will remain available in the coming months to ensure a seamless business transition.
"On behalf of Ryder, I would like to thank Dennis for his service for the past eight years. His passion and energy for our business resulted in the creation of new fleet management offerings and the largest fleet growth in the company's history. We wish him well in his future endeavors," said Robert Sanchez, Ryder's chairman and CEO.
Mr. Sanchez added, "John Diez has been with Ryder for 17 years and has held numerous executive leadership roles of increasing responsibility in finance and operations. I'm confident John has the experience and skills to lead the FMS organization to deliver new levels of success for our customers, employees, and shareholders."
Mr. Diez joined Ryder from KPMG in 2002. He began his Ryder career as assistant controller in Finance and has held the roles of chief financial officer for FMS and senior vice president of Asset Management, in which he led the commercial rental, used vehicle sales, and strategic sourcing departments. Mr. Diez has served as the president of Ryder's DTS business unit for the past four years and has led the business to double-digit revenue growth and increased profitability, reflecting his focus on new business and customer service. Mr. Diez is also a member of the board of directors for Trinity Industries, Inc. (NYSE: TRN).
As a result of this change, Ryder will also combine its supply chain and dedicated businesses under the leadership of Steve Sensing, president of Global Supply Chain Solutions (SCS). There will be no change to the financial reporting of the DTS and SCS businesses.
Mr. Sensing has been with Ryder for 27 years, starting in 1992 as general manager leading Ryder's DTS operations for multiple regional accounts. Over the past four years as president of SCS, he has led the management, operations, sales, and financial performance of Ryder's growing supply chain business. He also is a member of the advisory board for the Global Supply Chain Institute at the University of Tennessee's Haslam College of Business.
"Steve has a long career of leading successful supply chain and dedicated operations at Ryder. His background and proven business results make him a natural fit for these expanded leadership responsibilities. I am confident he will do an outstanding job of delivering for our customers and continue to profitably grow these valuable businesses," added Mr. Sanchez.
Additionally, Steve W. Martin, vice president of Supply Chain & Logistics for Automotive, has been promoted to senior vice president of Dedicated Transportation Solutions (DTS), reporting to Steve Sensing. Mr. Martin has more than 30 years of supply chain and dedicated transportation experience at Ryder. His appointment will ensure Ryder continues to build on the positive momentum of this growing business segment.
Category: Featured, General Update, Management, News, People