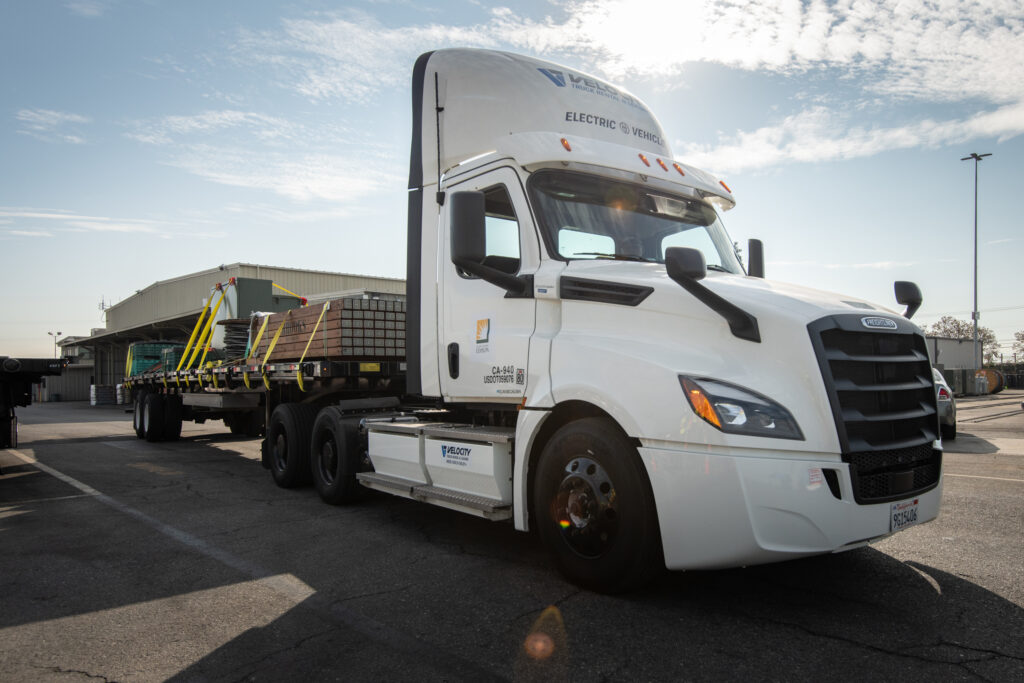 Freightliner's eCascadia electric semi will be tested as part of the utility's goal to grow its electric fleet
Southern California Edison on Thursday became the nation's first utility to receive and test the eCascadia, an electric big rig by Freightliner.

Members of the electric company's fleet management staff were joined by representatives from Daimler Trucks North America- Opens in new window, owner of Freightliner, for a "plug-in ceremony" at SCE's Irwindale warehouse facility.

The Class 8- Opens in new window truck will be used for a material transport test, which will include moving heavy utility equipment like transformers, wire reels and switch gears from the Irwindale warehouse to SCE service centers and laydown yards. It has a range of up to 250 miles per charge while towing a 60,000-pound trailer.

"SCE's testing of the eCascadia is a major step down the path of achieving our company's recently announced fleet electrification goals," said Todd Carlson, SCE principal manager of Fleet Asset Management, who manages the company's fleet of more than 6,200 vehicles. "We've been on the design team for the eCascadia for the last several years now, and it's very nice to see our work and Freightliner's work come to fruition with this product."
The electric truck will be used for a material transport test, including moving heavy utility equipment from SCE's Irwindale warehouse to SCE service centers and laydown yards.
The utility's parent company, Edison International, published the 2030 goal to electrify 100% of SCE's light-duty passenger vehicles, 30% of medium-duty vehicles and pickup trucks, 8% of heavy-duty trucks and 60% of forklifts in its 2019 Sustainability Report- Opens in new window.

"SCE's fleet electrification effort is part of a major push by utilities- Opens in new window across the nation to lead by example in adopting electric vehicles so that we can all breathe cleaner air and help save our climate," said Tom Guntrip, SCE's director of Transportation Services. "Here in California, where we have a target of 100% renewables by 2045, electric vehicles become cleaner every day as the state uses more and more renewable resources to power the grid."

The company estimates that in pursuing its fleet electrification goals, it will save more than 620,000 gallons of fuel annually and eliminate close to 6,000 metric tons of greenhouse gas emissions a year, or the same amount that would be saved by taking 7,600 cars off the road for a year or planting and growing nearly 600,000 trees for 10 years.
SCE Vice President for Operational Services Jim Niemiec gets a demo of the Freightliner eCascadia electric big rig from SCE heavy transportation driver Gilbert Davila Jr.
"It's critical that we collaborate with customers across multiple segments to further our understanding of how commercial battery-electric trucks will be part of a long-term solution in CO2-neutral transportation," said Richard Howard, senior vice president, On-Highway Sales and Marketing, Daimler Trucks North America. "Our customers provide important, continuous feedback that contributes to our ongoing design and purposeful innovation of these trucks, and together we will lead the future."

SCE has already installed more than 370 charge ports at its facilities to meet the demands of its growing electric fleet and expects it will need about 1,300 more to achieve its 2030 goals. Installation of EV fast-charging infrastructure in Irwindale to support the conversion of its transport fleet to electric is in progress. The utility also plans on testing other electric big rigs, trucks and electric pickup trucks with an expected range of 250 miles per charge.

SCE sees its fleet electrification goals as being in line with the state's direction on climate, given that Gov. Newsom earlier this year issued an executive order- Opens in new window requiring sales of all new passenger vehicles to be zero emission by 2035, as well as additional measures to eliminate harmful emissions from the transportation sector.
Irwindale Mayor Albert F. Ambriz (second from left) joins representatives from SCE and Daimler Trucks North America to celebrate the arrival of the Freightliner eCascadia electric big rig.
Category: Electric Vehicles, Equipment, Featured, Fuel & Oil, General Update, Green, News, Vehicles