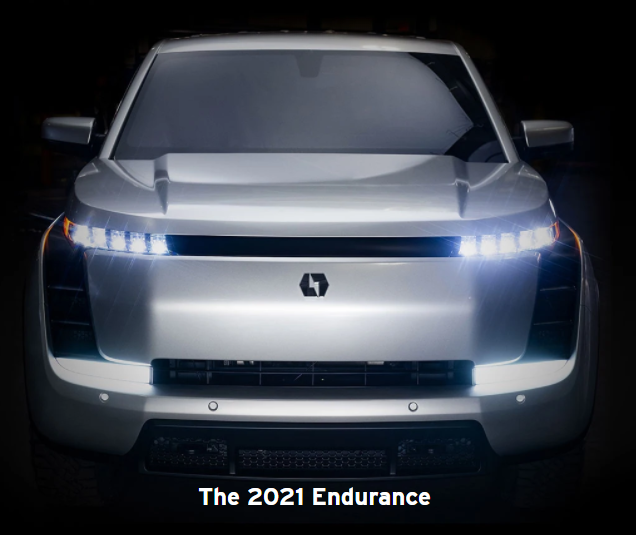 Utility is looking at models like the Endurance by Lordstown Motors to help meet its 2030 fleet electrification goals                               
Professionals who manage Southern California Edison's fleet of vehicles got the first look at an electric pickup truck that could help the them in reaching the company's 2030 fleet electrification goals.
SCE's Transportation Services Department in Pomona was the first stop in California the Endurance, an electric pickup truck that will be produced by Lordstown Motors of Lordstown, Ohio. The Endurance, which is not yet in production and still in the "show truck" phase, was unveiled in June during an event livestreamed from the company's headquarters.
"We support Lordstown's effort to bring a reliable electric pickup truck to market, because pickup trucks are our largest category of vehicle and offer the biggest opportunity for growth of electrification in our fleet," said Todd Carlson, SCE principal manager of Fleet Asset Management.
Lordstown Motors says the Endurance will have a range of more than 250 miles and a software-governed top speed of 80 miles per hour for fleets. "A 250- to 300-mile range pickup will be able to displace most of what we buy in internal combustion trucks," Carlson said.
While production of the Endurance EV pickup has not yet begun, SCE plans on testing the trucks and potentially adding them to its fleet.
SCE currently has more than 1,600 pickups in its fleet, and purchases an average of 150 per year. The utility recently announced that it will convert 30% of pickup trucks and medium-duty vehicles in its fleet to electric by 2030 and expects more beyond 2030 as vehicle replacements occur. The utility will also electrify all of its passenger cars and small-to-midsize SUVs in its fleet, as well as 8% of heavy-duty trucks and 60% of forklifts by 2030 with more to follow. Carlson says he is hoping to begin making large-scale electric pickup truck purchases in 2023.
"Bringing EV pickups into the California marketplace will help to address the state's air quality and greenhouse gas reduction goals, especially as we add more renewable energy to the grid to power those trucks," Carlson said.
The company estimates that pursuing its 2030 fleet electrification goals will save more than 620,000 gallons of fuel annually and eliminate close to 6,000 metric tons of greenhouse gas emissions a year, or the same amount that would be saved by taking 7,600 cars off the road for a year or planting and growing nearly 600,000 trees for 10 years.
"We are grateful for the opportunity to introduce the Endurance in person to the team at SCE, and we look forward to supporting them as they work towards electrifying their fleet," said Steve Burns, CEO and founder of Lordstown Motors Corp.
Edison International, SCE's parent company, laid out the 2030 goals for electrification of the utility's fleet of more than 6,200 vehicles, including trailers and off-road equipment, in its recently published 2019 Sustainability Report.
To meet the demands of its growing electric fleet, SCE has installed more than 370 charge ports at its facilities as of 2019. The electric company expects it will need about 1,300 additional charge ports to achieve its 2030 fleet electrification goals.
SCE is an industry leader in fleet electrification and continues to exceed its 2014 commitment through the Edison Electric Institute to spend at least 5% of its annual fleet acquisition budget on electrification options. In 2019, 12% of SCE's fleet acquisition spend was invested in EVs and plug-in technologies, and 13% of its overall fleet incorporated plug-in electric technology.
Category: Electric Vehicles, Featured, Fuel & Oil, General Update, Green, News, Vehicles