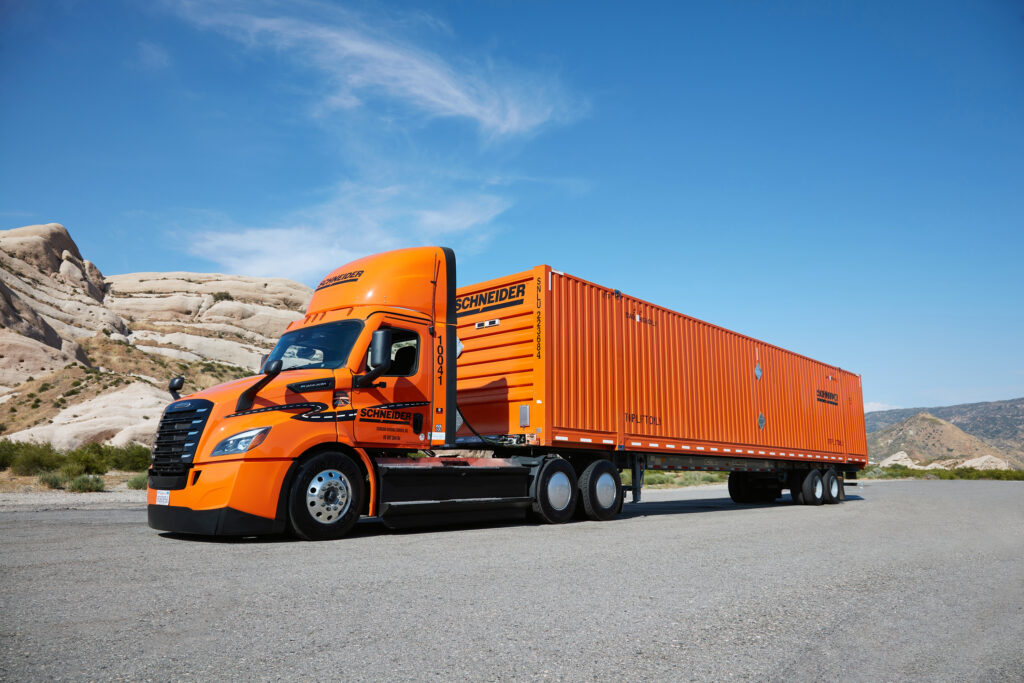 The transportation leader is reducing its carbon footprint and offering customers opportunities to lower emissions
Schneider National announced the carrier's battery electric vehicle (BEV) fleet has hit the impressive milestone of hauling more than 1 million zero emission miles of customer freight.
Schneider currently operates one of the largest BEV fleets in North America at the company's Southern California Intermodal Operations Center, featuring almost 100 Freightliner eCascadias and a charging depot about half the size of a football field.
The carrier's first electric trucks began hauling customers' freight in January. Since then, the fleet has grown to a total of 94 electric vehicles, including 92 battery electric trucks and two electric yard spotters. The eCascadias have avoided approximately 3.3 million pounds of carbon dioxide emissions – the equivalent of removing more than 330 gas-powered passenger vehicles from the road for a year.
"We are driven by our commitment to sustainability and innovation to be one of the first carriers to embrace electric as a powerful solution for hauling freight," said Schneider President and CEO Mark Rourke. "We believe in a future where clean technology helps transform the way we move goods and reduces our environmental footprint while still delivering on our promises of efficiency and reliability for customers. This milestone is just the first of many."
Schneider has already hauled for major brands, including Goodyear and Frito-Lay North America.
"Frito-Lay's strides in eliminating Scope 3 emissions were exemplified this year through our first-ever third-party electric vehicle shipment with Schneider," said PepsiCo Foods North America Vice President and Chief Sustainability Officer David Allen. "As the first to contract transport on Schneider's eCascadia fleet, our collaboration serves as a blueprint for how Frito-Lay and PepsiCo are working alongside our transportation partners to build a sustainable food system and reach our PepsiCo Positive net-zero emissions goal by 2040."
Schneider worked alongside Freightliner's parent company Daimler Truck North America (DTNA) every step of the way as the eCascadia evolved, piloting a truck for six months in 2020-2021 through the Freightliner Customer Experience Fleet. Now, the company is proud to be the first to achieve 1 million zero emission miles with the eCascadia.
"Three years ago, we tested the Freightliner eCascadia with Schneider in real-world test applications, and now they have already delivered goods on 1 million fully electric miles with their electric fleet. This is an important milestone, not just for Schneider, but for the industry as a whole," said DTNA Senior Vice President of Sales and Marketing David Carson. "Not only that, but clean transportation in the form of zero emission trucks on the road brings our society closer to a better future."
The South El Monte charging site features 16 350 kW dual-corded dispensers, allowing the carrier to charge 32 trucks simultaneously. The eCascadias achieve an 80% charge within 90 minutes and have a typical driving range of up to approximately 220 miles.
Each day, the zero emission trucks accelerate the company's progress toward its goal of reducing per-mile emissions by 7.5% by 2025 and 60% by 2035, while also helping customers reach their own sustainability goals. Schneider is already more than halfway to its 2025 goal.
To commemorate the 1 million zero emission mile accomplishment, Schneider President and CEO Mark Rourke will ring the New York Stock Exchange (NYSE) closing bell on Tuesday, November 21.
Funding for 50 of Schneider's 92 eCascadias was made possible by the Joint Electric Truck Scaling Initiative (JETSI), the first battery electric truck project jointly funded by the California Air Resources Board and the California Energy Commission.
For the additional 42 trucks outside JETSI, five are jointly funded by the U.S. EPA FY18 Targeted Airshed Grant and Hybrid and Zero-Emission Truck and Bus Voucher Incentive Program (HVIP), seven are funded by the Volkswagen Environmental Mitigation Trust, and 30 trucks are funded by HVIP.
Category: Electric Vehicles, Engines & Drivetrains, Equipment, Featured, Fuel & Oil, General Update, Green, News, Safety, Tech Talk, Vehicles