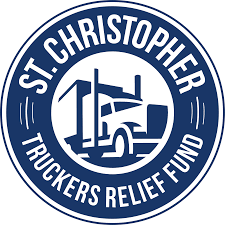 Corporate sponsors share their gratitude for drivers though TDAW campaign
The St. Christopher Truckers Relief Fund (SCF) is gearing up for Truck Driver Appreciation Week with special messages of gratitude and recognition to truck drivers with the help of corporate sponsors Brenny Transportation, Shell Rotella, Pilot, Echo Global Logistics, and Truckstop. This year's Truck Driver Appreciation Week is September 10-16, 2023.
Each of the sponsors has graciously donated $5,000 to St. Christopher as part of the campaign, which will kick off on September 1 and run through September 30. The campaign includes a landing page with statements of support, and pictures and stories of drivers that are the backbone of the corporate sponsors.
"I am so proud to be the St. Christopher Fund Board President, which gives me one more opportunity to
highlight the importance of professional truck drivers," said Joyce Brenny, president of Brenny
Transportation Inc., & Brenny Specialized. "Professional Truck drivers, you are the leaders of our
industry! Thank you!"
Drivers are the hands and feet that keep our country running and they take care of the brand on the
road. Over the last 15 years, nearly 4,000 drivers have turned to the St. Christopher Truckers Relief
Fund for support when an illness or injury took them off the road.
"We are honored to support truckers through the St. Christopher Fund, especially during this
recognition week," said Julie Wright, North American Brand Manager at Shell Rotella. "This builds on the
commitment Shell Rotella made to work with SCF throughout 2023 and beyond."
SCF is the only non-profit in the industry tangibly supporting drivers when they are out of work because
of injury or illness. SCF also has proven success with our FREE Health and Wellness programs including
tobacco cessation, diabetes prevention, vaccine vouchers for flu, pneumonia and shingles, and prostate
cancer screenings.
"We are incredibly proud and honored to support our na`on's truck drivers this Na`onal Truck Driver
Apprecia`on Week, and every week, alongside the St. Christopher Fund, as they extend their helping
hand to drivers naviga`ng their toughest moments," said Kendra Tucker, chief execu`ve officer,
Truckstop. "Thank you to all the hard-working truck drivers for all that you do – you truly are the
rockstars of the road."
This TDAW campaign recognizes drivers as essential trucking heroes and shares real names and faces of
real drivers delivering real goods, we all depend on every day. Drivers will be highlighted on SCF's TDAW
landing page. To nominate a driver go to SCF's TDAW landing page and share your driver's story.
"We are so grateful for our sponsors who have come forward to show their appreciation for their drivers
during Truck Driver Appreciation Week," said Shannon Currier, Director of Philanthropy with St.
Christopher Truckers Relief Fund. "Support of drivers through the St. Christopher Fund provides help and
hope when drivers need it most. Together, we can make a real difference in drivers' lives. Because truck
drivers are more than their job title. They are real people, with real families."
The St. Christopher Truckers Relief Fund was founded in 2008 by Dr. John McElligott ("Dr. John"), radio
host Dave Nemo of the Dave Nemo Show (XM Radio Channel 146) and his business partner Michael
Burns. It all started when Dr. John felt compelled to take action after witnessing hundreds of truck
drivers and their families struggle to survive as a result of catastrophic illness or injury. Dr. John found
willing partners in Dave and Michael and together they launched the truck driver charity to come to the
aid of professional drivers in need.
To date, the St. Christopher Truckers Relief Fund (SCF) has provided $4.5+ million directly to bill holders
on behalf of 3,754+ professional drivers.
Category: Driver Stuff, Equipment, Featured, Fuel & Oil, General Update, News, People, Safety, Training