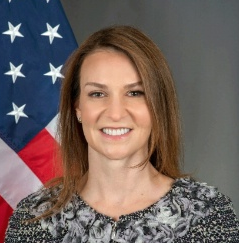 The American Association of State Highway and Transportation Officials urged the Senate Environment and Public Works Committee to approve the nomination of Nicole Nason to be the next Administrator of the Federal Highway Administration.
"The Trump Administration made a wise choice with its nomination of Nicole Nason as the next FHWA Administrator. Given her nomination hearing today which was well-received by both sides of the aisle, we ask for a speedy approval by both the Committee and the full Senate," said Jim Tymon, AASHTO executive director. "Not only has Nason served as Administrator of the National Highway Traffic Safety Administration (NHTSA), she has also held the position of Assistant Secretary of Government Affairs at USDOT. We look forward to working with her to advance our nation's transportation infrastructure goals through a strong partnership between FHWA and our state transportation departments."
Nason who currently serves as assistant secretary of the Bureau of Administration within the U.S. Department of State – spent five years in multiple transportation roles within the federal government. From 2003 to 2006, she worked as assistant secretary for government affairs at the U.S. Department of Transportation where she worked with Congress on a five year reauthorization of the federal surface transportation program.
She then served as Administrator of the National Highway Traffic Safety Administration from 2006 to 2008, where Nason oversaw the development of new seat belt rules for school buses, rulemaking for electronic stability control systems, and the formulation of crash test rating criteria for the Five-Star Safety Ratings program.
Category: General Update, News, People