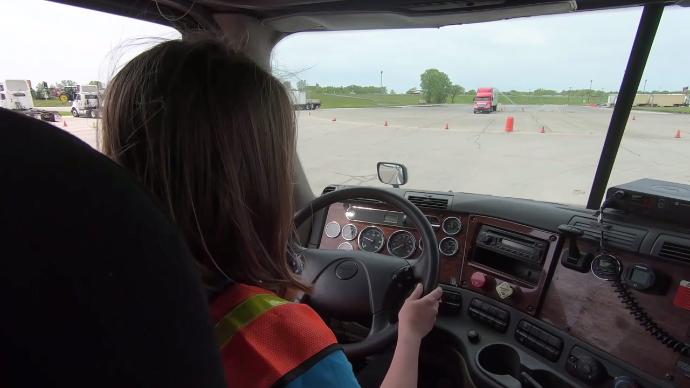 Industry leaders urges the industry to overcome age barriers to hiring, vet new drivers carefully, and train them in the most effective way possible
According to a study by the American Transportation Research Institute, the share of younger truck drivers has been decreasing, leaving the industry more reliant than ever on the 45- to 54-year-old age group.(1) John Kearney, CEO of Advanced Training Systems, notes this trend is exactly the opposite of what is needed. "It is urgent that we reverse the pattern and start attracting large numbers of capable, career-minded young people to one of the most important industries in the country. To help make that happen, our company is a founding sponsor of the Next Generation in Trucking Association whose mission is to bring awareness to an emerging career choice and to place advanced simulation training technology in the hands of young driving students around the country," he says.
In most states, the minimum age for obtaining a commercial driver's license is 18. Kearney, whose company is a leading designer and manufacturer of virtual simulators for driver training, among other applications, notes that federal law currently prohibits drivers under 21 to drive in conjunction with interstate commerce, which means they cannot take a truckload across a state line. This, says Kearney, creates a major barrier to recruiting younger drivers. The two-thirds of Americans who do not have a college degree(2) tend to launch their careers straight out of high school, usually at age 18. By the time they reach 21, many of them—including, Kearney points out, the steadiest and most career-minded—are increasingly unlikely to enter a new field.
In response to this problem, in 2018, U.S. Sen. Todd Young, R-Ind., and U.S. Rep. Duncan Hunter, R-Calif., co-sponsored the DRIVE-Safe Act, which would lower the interstate commercial trucking age to 18 nationally.(3) Meanwhile, the Federal Motor Carrier Safety Administration has announced a pilot program to allow drivers between 18 and 20 years old to operate commercial motor vehicles in interstate commerce. FMCSA has requested comments from the public on the training, qualifications, driving limitations, and vehicle safety systems that FMCSA should consider in developing options or approaches for the program.(4)
Essential to the proper training of these new drivers, says Kearney, is virtual-reality simulation. Studies show a crash reduction rate of up to 35% for simulator-trained truck drivers; they also show that simulator training lowers overall training cost by accelerating students' progress.(5)
Judging from the comments received by FMCSA, public support for the pilot program appears to be strong. Of those opposed to it, notes Kearney, the majority tend to focus on the supposed immaturity and undependability of people 18 to 20 years old.(6) ATS, along with industry colleagues such as Women in Trucking, agrees that the solution to this potential problem is to vet prospects closely. The U.S. military, Kearney notes, selects from exactly this age group—and turns down 80% of those who apply.(7) They look for attitude and aptitude, he points out, and the trucking industry should do so as well.
This, says Kearney, is a crucial moment for trucking, and for the next generation of truckers. It is also a time when the industry needs help. He advises young adults—and parents of young adults—looking for a career to take a look at trucking. Likewise, he notes, trucking companies looking for new workers should be reaching out to young people, including women. It is estimated that there are 50,000 fewer long- and short-haul truckers than are needed now, a total that, if nothing changes, could reach 160,000 by 2028.(8)
"The trucking industry," says Kearney, "is essential to the United States economy in the same way that the military is essential to its defense. To flourish, it needs a young generation of workers with the attitude, aptitude, and training to keep the supply chain flowing and the highways safe. At ATS, we're proud of our role in preparing the next generation of American truckers."
Category: Driver Stuff, Featured, General Update, News, Safety, Training