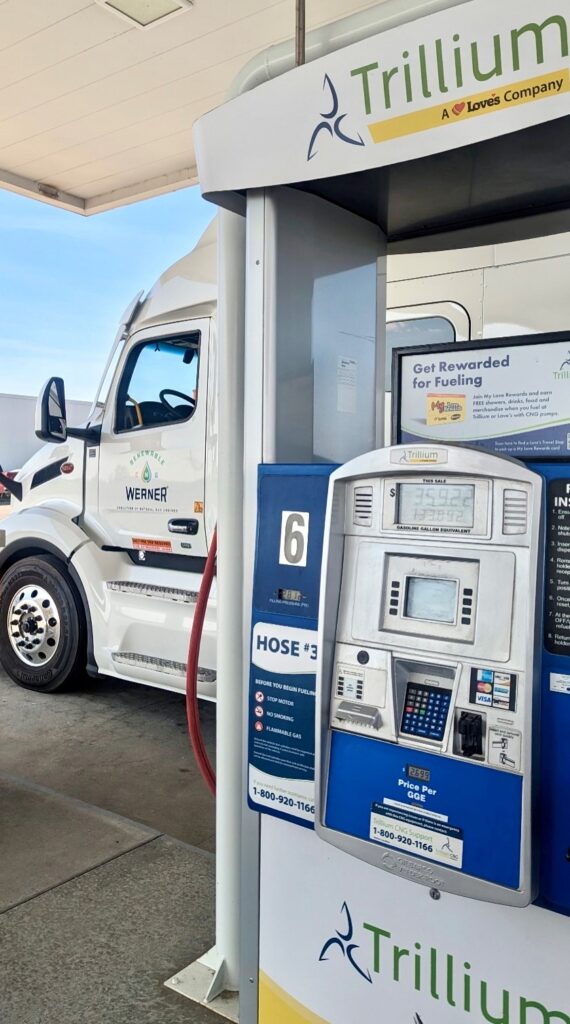 Exclusive RNG fueling supplier for Werner during field trials
Trillium Energy Solutions, a member of the Love's Family of Companies, will supply Werner Enterprises with renewable natural gas (RNG) to fuel the 15-liter Cummins natural gas engine as part of field trials of the new Cummins X15N engine in North America. As the exclusive RNG fueling supplier for Werner during trials to validate commercial production of the engine, Trillium will fuel Werner's Peterbilt Model 579 field trial truck powered by the Cummins X15N natural gas engine with RNG from its Omaha, Nebraska and Rockford, Illinois stations.
"Working with partners like Trillium to test the X15N while utilizing RNG gives Werner valuable real-world data that helps us validate these engines prior to a wider adoption into our fleet," said Chad Dittberner, senior vice president of dedicated services for Werner Enterprises. "Trillium has been helpful in this process, and we look forward to expanding adoption of these clean fuels and advanced technologies in our fleet."
Werner is one of the first fleets to test RNG in the Cummins X15N engine with a goal to lower fleet emissions, increase performance and reduce downtime. The lighter and more powerful Cummins X15N engine will enable fleets that operate in traditional over-the-road long-haul and heavy-haul applications to take full advantage of the operational and environmental benefits and cost savings offered by natural gas. When RNG is used to fuel those vehicles, it can provide substantial reductions in greenhouse gas emissions in addition to the significant clean air benefits provided by near-zero-emission natural gas engines.
"Love's and Trillium have a successful relationship with Werner, both with fueling their compressed natural gas (CNG) trucks and now supplying RNG for field trials of the Cummins X15N engine," said Marc Rowe, general manager of fuel sales at Trillium. "The use of low- and even negative-carbon fuel is an important element for any fleet seeking to reduce its emissions. Love's and Trillium are continuing to expand our retail CNG station footprint by adding more locations for our customers in 2023 and beyond in several markets in the U.S."
Category: Electric Vehicles, Engines & Drivetrains, Equipment, Featured, Fleet Maintenance, Fuel & Oil, General Update, Green, News