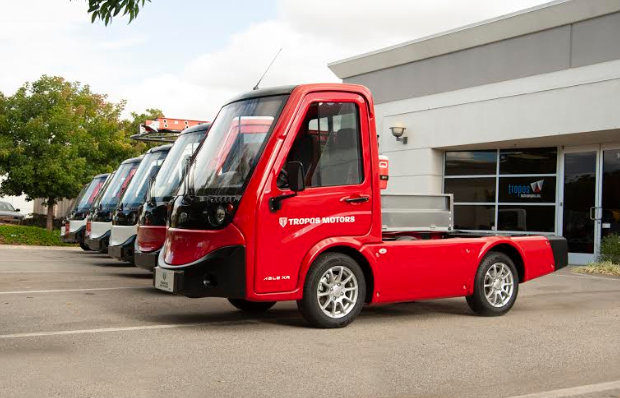 Deal includes assembly and sale of all-electric, zero-emission compact utility vehicles (eCUVs) and trucks
Tropos Technologies, a Silicon Valley-based manufacturer and distributor of all-electric compact utility vehicles (eCUVs), has named CUBEX as its Canadian distributor to sell and service Tropos Motors ABLE eCUV vehicles and accessories.
Based in Calgary, Alberta, CUBEX is a full-service industrial equipment dealer. The company is a supplier of hydro-excavators, street sweepers, sidewalk tractors, mowing equipment, asphalt pavers, pothole patchers, snow-removal equipment, sewer-flusher units, sewer-inspection equipment, and road-widening equipment.
CUBEX will assemble Tropos Motors vehicles at their facilities in Greater Vancouver, British Columbia and Greater Montreal, Quebec.
"Offering compact electric utility vehicles is a natural fit for us," said Kitch Wilson, GM and CEO, CUBEX Limited. "For nearly 50 years, we've offered quality products and excellent service. Tropos Motors' eCUVs offer our customers zero-emissions vehicles that are capable of handling large payloads and towing capacities and can maneuver in tight quarters. Not only will the ABLE eCUV help our customers meet their sustainability goals, but it will help them to get big jobs done."
Tropos Technologies develops and manufactures eCUVs and trucks under the Tropos Motors brand and until now has primarily focused on United States market.
"CUBEX has a great reputation and a wide-ranging network for selling and servicing vehicles," said Jeffrey Esfeld, director of sales and business development for Tropos Motors. "As an integral part of the economic fabric of Canada, CUBEX is an ideal partner. They'll help us reach the Canadian market, and Canadian customers coast to coast know they can depend on CUBEX."
Tropos Motors' low-speed compact utility vehicles are capable, reliable, and dependable for applications including corporate, fleet, first-responder, agriculture, last-mile delivery, and construction applications, said John Bautista, founder and CEO of Tropos Motors. "From emergency response to facilities maintenance and material hauling, the Tropos Motors ABLE delivers the highest level of utility without sacrificing access and maneuverability," Bautista said. "We know Canadian customers will love them."
Category: Electric Vehicles, Featured, General Update, Green, News