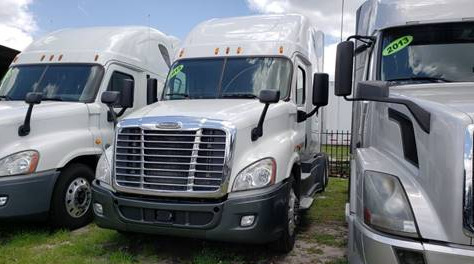 ACT Research reports used Class 8 retail volumes (same dealer sales) declined 23% m/m in April
According to the latest State of the Industry: U.S. Classes 3-8 Used Trucks, published by ACT Research, used Class 8 retail volumes (same dealer sales) declined 23% m/m in April. Average mileage declined by 1%, with average price down 8% and age up 3%. Longer term, average volumes, price, and miles were lower, with age flat y/y.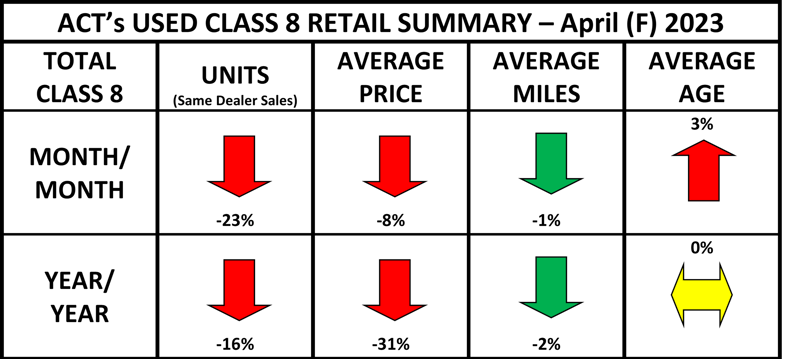 "Same dealer Class 8 retail truck sales slowed in April, pulling back 23% from March. While sales normally decelerate in April, the decrease was greater than the expected 8-10%," said Steve Tam, Vice President at ACT Research. He continued, "With inventory on the rise, and more importantly, not a limiting factor for sales, the logical conclusion is that demand is softening. This is a plausible explanation, especially given waning economic and freight conditions."
"Examining each of the channels individually will shed light on how other indicators are faring. Near-term channel results reveal the usual pullback from the quarter-end spike in auction volumes. After spiking 93% m/m in March, auction activity shrank 45% m/m in April. Wholesale transactions improved, jumping 72% m/m," he added. "Combined, the total market fell 28% m/m in April."
Tam concluded, "As the year progresses, the year-to-date scenario also continues to diverge from last year. The overall market extended its lead to 5% ytd. Despite the early lead, we believe that truckers' appetites for used equipment will be curbed as freight volumes continue to contract. Our best estimate suggests that inventory continues to increase, supporting buyers working to refresh their used truck fleets."
The report from ACT provides data on the average selling price, miles, and age based on a sample of industry data.
Category: Equipment, Featured, Fleet Maintenance, For Sale, General Update, News, Shop Stuff, Vehicles