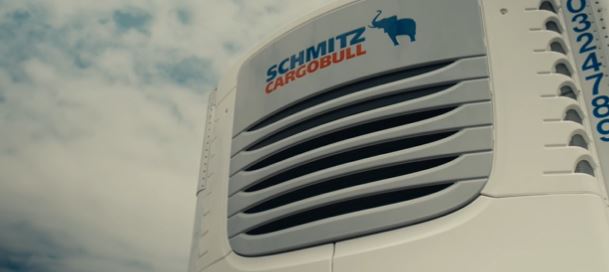 Cargobull North America" Joint Venture Unites North American, European Trailer Industry Titans of Innovation
Utility Trailer Manufacturing Company, LLC and European trailer manufacturer and market leader Schmitz Cargobull Corporation announced the inception of Cargobull North America and unveiled new, state-of-the-art transport refrigeration units (TRUs).
Utility Trailer is the exclusive North American distributor of Schmitz Cargobull's latest TRU technology on its 3000R line of trailers, the best-selling reefer in North America. Combined with Utility's proven innovations and its powerful dealer network, Cargobull is primed to help TRU technology take a giant leap forward in North America. Innovative elements reduce and eliminate emissions, realize up to 20% less fuel consumption, and allow for advanced trailer telematics to monitor and manage fleet logistics. The Utility TrailerConnect PRO telematics solution is factory installed and offers safe temperature-control management thanks to active monitoring and intelligent remote control of the refrigeration units. The telematics platform is furthermore designed so that transport companies can easily share the data with their partners.
"It was only natural for us to enter talks with Utility Trailer. They have in-depth market knowledge and a comprehensive dealer network, and, as we're both family-owned-and-operated companies, Utility and Schmitz Cargobull share many of the same values," Schmitz Cargobull Chairman of the Board Andreas Schmitz said. "I am very much looking forward to our collaboration. Above all, I am convinced that together we will provide added value to North American customers and revolutionize the market."
Schmitz Cargobull is the market leader in TRU technology in Europe, with 30,000 TRUs currently on the road and a proven track record of success. The new lineup coming to North America on Utility's 3000R reefers includes the 625 single-temperature and 655MT multi-temperature hybrid TRUs. Fully electric, TUV-homologated models with battery-recuperation axles are coming soon.
The TRU technology unveiled today already meets California's stringent emission standards for 2030. It's also compliant with California Air Resources Board (CARB) ultra-low-emission TRU (ULETRU) regulations without using a problematic diesel-particulate filter (DPF) or exhaust-gas-recirculation valve. Because the units can be plugged in at a loading dock, operators will lower emissions while maximizing cooling efficiencies.
"Our joint venture with Cargobull further positions Utility Trailer as a global leader in sustainability, fuel efficiency, and emission reduction," Utility President and CEO Jeff Bennett said. "We don't just want to be the biggest, but also the best, holistic destination for everything reefer customers need, from strong and lightweight boxes to energy-efficient TRUs and high-tech telematics—all in one trailer."
Additional advantages of the new Utility and Cargobull North America TRUs include a Hatz industrial diesel engine with fuel-sipping common-rail injection, a reliable hybrid powertrain, fully embedded shore power, and noise-dampening options that come standard for quieter loading docks and the quietest diesel operation available in North America.
Category: Accessories, Cab, Trailer & Body, Cab, Trailer & Body New, Equipment, Featured, General Update, News, Products, Tech Talk, Vehicles