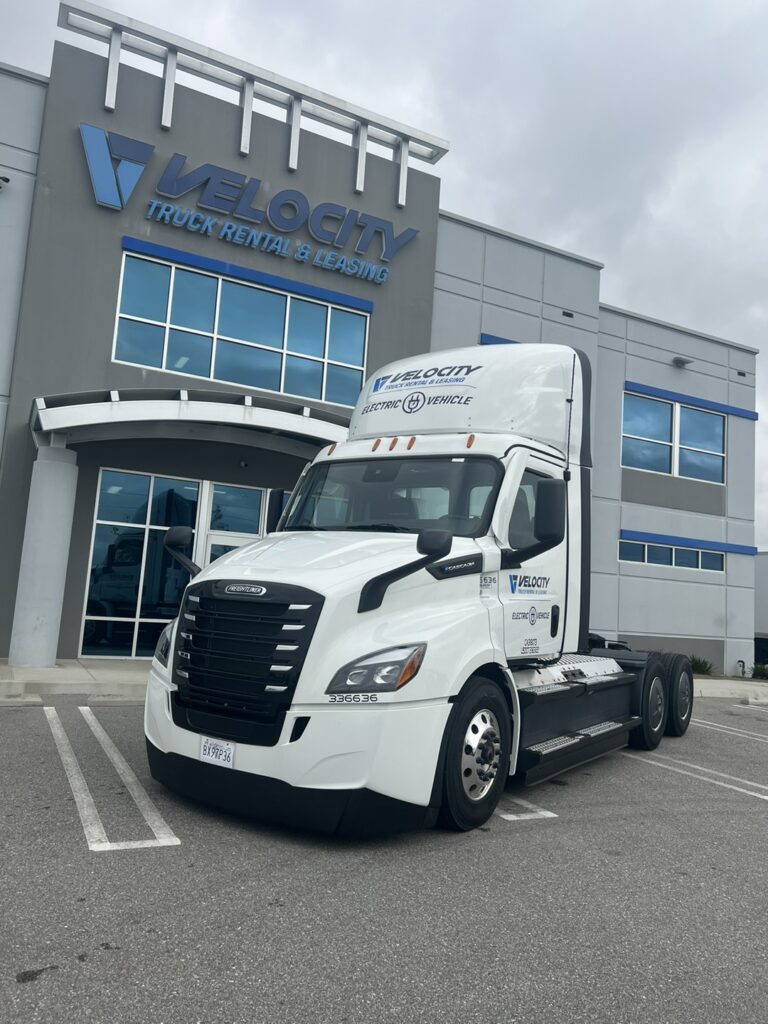 The investment also supports high-powered charging infrastructure for Class 6-to-8 Freightliner models to reach an 80% state of charge within 90 minutes or less
Velocity Truck Rental & Leasing, a division of Velocity Vehicle Group, is adding 200 battery-electric trucks – including 125 Class 8 Freightliner eCascadia's and 75 Class 6 & 7 Freightliner eM2's from Daimler Truck North America (DTNA) – to its commercial truck rental and full-service truck leasing business. The new rental and leasing fleet, along with supporting infrastructure to charge vehicles in 90 minutes or less, enables Velocity's customers to deploy zero-emission trucks quickly and cost-effectively into their operations.
"Our customers are always at the forefront of what we do, and we know firsthand what it takes to put electric trucks and infrastructure in place," said David Deon, president of Velocity Truck Rental and Leasing. "The acquisition of our new battery-powered fleet allows our customers the opportunity to go zero-emissions quickly, in addition to offering cost-saving measures through quick-charging infrastructure that is included in our leasing program."
Both Freightliner models are battery-powered to run up to 230 miles. The larger eCascadia is an all-electric version of North America's best-selling Class 8 truck suited for short-haul and last-mile delivery routes. The eM2 is a highly maneuverable, quiet and comfortable Class 6-7 EV truck engineered for regional pick-up and delivery routes.
In partnership with DTNA, Velocity serves on the Electric Vehicle Council, in addition to the Customer Experience Fleet to test the eCascadia in real-world applications. Collectively, the Freightliner eCascadia and eM2 models have been driven more than 1.5 million miles by customer-partners.
"The Velocity team is making considerable investments to help its fleet customers successfully integrate medium- and heavy-duty battery-electric vehicles into their operations, as well as help DTNA make progress toward its global freight electrification goals," said DTNA SVP, Sales and Marketing, David Carson. "As one of DTNA's largest dealership partners, Velocity also adds value as a solution-orientated member on our EV taskforce identifying tactical methods to electrify more fleets in the commercial sector."
The entire fleet of 200 battery-electric trucks is scheduled to be in full service by 2025, with the first five Freightliner eCascadia trucks currently being deployed to Arrowlink Logistics to support pickups and deliveries at the ports of Los Angeles and Long Beach.
"Our team is excited to integrate zero-emission Freightliner eCascadia trucks into our port drayage operations so that we can reduce our impact on the local community as we transport freight between Southern California's busy ports and local warehouses," said Kevin Kuo, president of Arrowlink USA, Inc. "Velocity Truck Rental & Leasing has made the entire process easy for our team – including helping us determine the right truck configurations for our routes, providing training to our drivers, and supporting us in developing a plan to charge our trucks."
Velocity's investment also includes installation of 39 dual port 150 kW chargers at multiple Southern California locations, providing customers with an affordable, reliable, and immediate option to charge battery-electric trucks. The high-powered technology allows the Freightliner eM2 to reach an 80% state of charge in approximately 60 minutes for the Class 6 model and 90 minutes for the Class 7 model. Similarly, the Class 8 Freightliner eCascadia can achieve an 80% state of charge in approximately 90 minutes utilizing dual port charging. 
The nearly four-dozen chargers will be installed at key locations along transit corridors with 17 in Rancho Dominguez, 10 in Fontana, 10 in Industry, and two in San Diego. Velocity's customers will have access to these high-powered chargers as either their primary or supplementary charging location as part of the lease agreement.
Category: Cab, Trailer & Body, Electric Vehicles, Equipment, Featured, Fuel & Oil, General Update, Green, News, Products, Vehicles