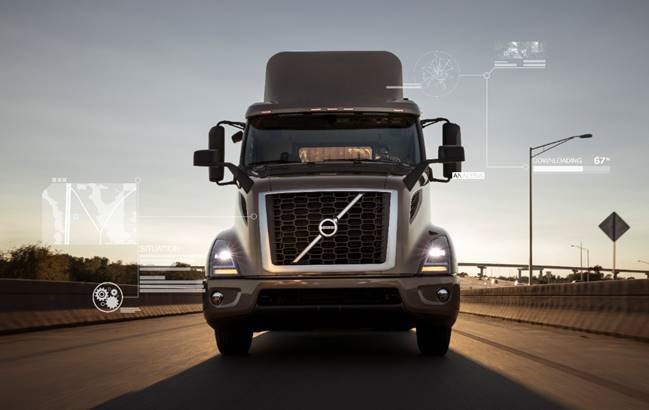 Figure is part of more than 560,000 connected trucks globally in the Volvo Trucks family
"Over the past few years, marked improvements in connectivity have driven change and formed real-world opportunities in the trucking industry for safer, smarter and more sustainable operations," said Ash Makki, product marketing manager, Volvo Trucks North America. "We are proud to reach this milestone, and will continue to expand and grow our connected solutions for our customers while driving the industry towards a more connected future."
The Volvo Trucks Uptime Center is a key aspect of offering customers the best in connected services with 24/7 live support behind the technologies. Every dedicated professional at the Volvo Trucks Uptime Center is a well-trained Volvo Trucks employee. Real-time, seamless interaction between the expert personnel of Volvo Action Services and customer decision-makers and drivers optimize Volvo Trucks' connectivity services.
Volvo Trucks continuously investigates new opportunities and technologies with a vision to connect the bigger picture for customers now and in the future. And the company has been on the leading edge of connectivity for years.
A Heritage of Innovation in Connectivity
As early as 2012, Volvo Trucks introduced Remote Diagnostics, which enables customers to reliably transmit information to and from their trucks and monitor fault codes in real-time, delivering assessments and solutions based on severity. This allows for faster and more comprehensive diagnostics and repairs, while also providing fleets with information on driving habits, fuel usage, truck performance and more.
The next advancement from Volvo Trucks was Remote Programming, which works hand-in-hand with Remote Diagnostics and allows for over-the-air software and parameter updates to be made in a matter of minutes when the truck is in a stationary position with cellular service. These solutions served as the foundation of Volvo Trucks' future technologies that are now included in its industry-leading connectivity offerings.
Continuing forward, Volvo Trucks then announced the partnership with global analytics leader SAS, enhancing Remote Diagnostics with an advanced analytics platform and use of artificial intelligence for a more precise analysis of the truck. That same year, Volvo Trucks announced a memorandum of understanding (MOU) with transportation software leader Trimble Transportation Enterprise to develop transportation management and fleet maintenance products and services.
In the last year alone, Volvo Trucks has announced a number of new products and services further enhancing connectivity in its vehicles, including an expansion of parameter updates, its new Dynamic Maintenance service and Geotab Drive.
The Parameter Plus Package, allowing for up to 50 remote parameter updates annually per vehicle, was the first iteration of the innovative subscription package enabling customers to reach peak performance while maximizing uptime. Volvo Trucks then expanded upon this with a new series of updates, providing customers with over 250 parameters to choose from, complementing the Parameter Plus package.
Next, Volvo Trucks introduced Dynamic Maintenance, a connected vehicle maintenance service intended to improve fleet operations efficiency through proactive maintenance planning. This service was designed in partnership with Noregon Systems to enable customized service plans at an individual-vehicle level to improve fleet management for its customers.
And just recently, Volvo Trucks announced the introduction of Geotab Drive, a streamlined FMCSA-compliant Electronic Logging Device (ELD), developed in partnership with world-class telematics leader Geotab. The integrated, cloud-based system provides customers with a seamless solution to monitor and record accurate logs.
Continued Legacy of Leadership
Volvo Trucks continues to lead the industry regarding connectivity, using data gathered from existing technologies to uncover new ways to deliver value to its customers for more productive and efficient transport solutions.
"As we continue to demonstrate our leadership position in connectivity, we strive to offer our customers the most advanced technology as quickly as possible," said Makki. "As amazing as cutting-edge advancements in connected technology can be, we know our customers will always be the most important factor in driving the industry forward, with the bigger picture in mind."
Category: Connected Fleet News, Featured, Fleet Diagnostics & Software, Fleet Tracking, General Update, News