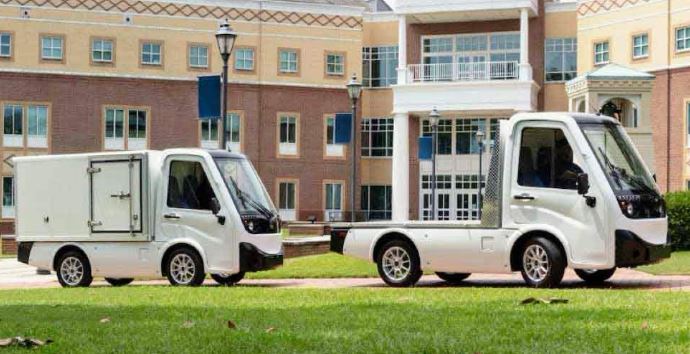 New on-the-go EV solution helps support operational issues associated with COVID-19
AYRO, Inc. manufacturer of light-duty, urban and short-haul electric vehicles (EVs), has received $584,000 in orders for its inaugural purpose-built EV hospitality truck solution. The milestone follows the recent partnership announcement with Gallery Carts (Gallery), a leading provider of food, beverage and retail carts, kiosks and portables. The collaborative AYRO-Gallery engineering partnership was established in part to launch these new "on-the-go" hospitality vehicles.
Approximately one-fifth of the AYRO-Gallery orders have already shipped, with the remainder expected to be fulfilled in third and fourth quarter of this year from AYRO's newly-expanded Austin factory.
The innovative AYRO-Gallery vehicle integrates a configurable lithium-Powered Vendor Box solution into the Club Car 411 Utility Vehicle, enabling safe hot or cold food distribution via emissions-free, light duty vehicles in hospitality venues nationwide. These initial orders are expected to provide the all-electric configurable mobile vehicles for campuses, stadiums, resorts, airports and event centers across the United States.
In addition to the logistical and environmental benefits of the AYRO-Gallery solution, purpose-built EVs have been shown to save fleet operators more than 50 percent on annual fuel costs when compared to existing gas and diesel trucks. It also provides Gallery clients with revenue generating opportunities with custom branded exteriors and through mobile on-demand, on-location sales that overcome existing retail space limitations.
Rod Keller, Chief Executive Officer of AYRO, Inc., commented on the initial order milestone, "We're delighted to ramp up production in our home-base of Austin, TX, which is fast becoming one of the premier EV investment and manufacturing hot spots in North America, in order to meet the demand for our new on-the-go AYRO-Gallery EV solution. "We are incredibly proud of the team's ability to identify and support burgeoning markets. Our partnership with Gallery Carts is fulfilling short and long-term industry needs with a solution that prioritizes customer safety during COVID-19, with easily customizable contact-free food and resource distribution options."

"The AYRO-Gallery solution is helping us support our clients as they continue to address operational issues associated with COVID-19," adds Dan Gallery, President of Gallery Carts. "They need solutions that allow them to expand revenue opportunities by bringing food and other products to students, fans and consumers where they are. We see the demand growing. AYRO's new facility and commitment to growth is critical to satisfying the demand."
Category: Electric Vehicles, Equipment, Featured, Fuel & Oil, General Update, Green, News, Vehicles