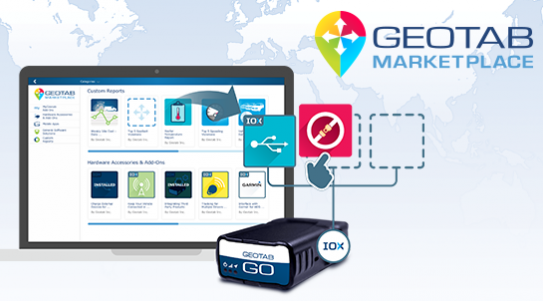 Fleets will have the added capability of accessing near real-time data on the status of their trailers, chassis or containers
BlackBerry Limited and Geotab today announced the availability of BlackBerry Radar, an IoT based asset-tracking solution, on the Geotab Marketplace. The combined solution will help commercial fleets boost productivity, improve asset utilization, reduce costs and improve services to their customers. BlackBerry Radar provides multi-sensor reporting and with the integration into Geotab's MyGeotab software platform, will equip fleet owners with unparalleled visibility into their operations, allowing them to better optimize their assets and improve utilization.
Geotab's telematics solution, which is utilized by more than 1.6 million vehicles around the world, helps fleets monitor and optimize vehicle efficiencies including fuel consumption, engine data, driver productivity and safety and hours-of-service compliance. With the addition of BlackBerry Radar on the Geotab Marketplace, fleets will have the added capability of accessing near real-time data on the status of their trailers, chassis or containers. In addition to location visibility, Radar also provides a range of sensor data such as route and mileage, temperature, humidity, door open/close and cargo load state, within a single user-interface in the MyGeotab platform.
"Our primary focus has always been to build powerful and intuitive solutions that our customers can use to improve their operations. By working with engaged and innovative partners like BlackBerry, we are able to continuously offer our customers an extremely powerful solution that not only helps them better manage their fleet, but their important assets as well," said Joey Marlow, Executive Vice President, U.S. Operations, Geotab.
"With the industry facing both a shortage of drivers and high labor turnover rates, timely and accurate data that can shed light on where a fleet manager's assets and drivers are, and how effectively they are being utilized, has never been more important," said Christopher Plaat, SVP and GM of BlackBerry Radar, BlackBerry. "By working with Geotab, we will be able to provide business owners in the transportation industry with the critical and actionable data they need to better manage these issues so that they can succeed in today's market."
BlackBerry Radar is an easy-to-install, asset monitoring solution for trailers, chassis and containers that provides near real-time information around location, motion, mileage, temperature, humidity, door open/close status, and cargo status through an intuitive on-line dashboard. All data is transmitted and stored securely on a cloud platform, which maintains the privacy of user information at all times.
Each BlackBerry Radar device is rugged, and takes only minutes to install, giving business owners virtually instantaneous access to a secure cloud-based dashboard. The solution includes everything necessary to start tracking mobile assets immediately including the device, cellular connectivity, dashboards, mapping, hosted cloud services and more.
Category: Connected Fleet News, Featured, Fleet Diagnostics & Software, Fleet Tracking, General Update, News