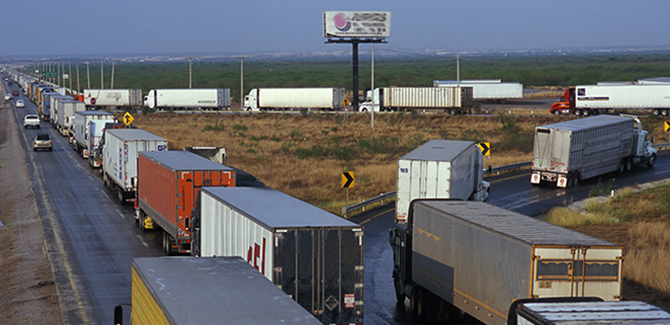 New UC Berkeley Report says Misclassified drivers can't afford clean trucks; Current Legislation — AB 5 would help make California's transition to low- and zero-emissions trucks a reality 
California needs cleaner commercial trucks to meet the state's climate goals, but misclassification of truck drivers works against that goal, according to a new report from UC Berkeley.
The new report by the UC Berkeley Labor Center finds misclassifying truck drivers as independent contractors rather than classifying them as employees sets back climate change goals, putting the cost of cleaner trucks on those who can least afford it. Vehicles — including commercial trucks — account for 40% of all greenhouse gas emissions in California, making the sector a critical focus for climate policy.
In Truck Driver Misclassification: Climate, Labor, and Environmental Justice Impacts, Sam Appel, California Policy Organizer at BlueGreen Alliance and Dr. Carol Zabin, Director of the Green Economy Program at the UC Berkeley Labor Center, highlight the potential for win-win policies that can protect the climate, workers, and communities impacted by pollution. Key findings include:
Low road labor practices are widespread in trucking, particularly in the contractor industry segment. Since trucking deregulation in the 1980s, a destructively competitive market environment has forced companies to cut costs, including by reducing compensation to truck drivers.  
High prevalence of truck driver misclassification is found in local freight trucking, local pickup and delivery, and the long-haul trucking segments of the California trucking industry.
Drivers that meet the legal standard to be classified as employees but are misclassified as independent contractors earn very low wages and must finance expensive vehicles with high interest loans or high cost leases to comply with clean vehicle rules.
As a result of the capital barriers they face, the contractor segment of the trucking industry has the lowest compliance rates with California's current clean vehicle regulations, with compliance rates of 61% with the landmark Truck and Bus Rule, compared to 83% for large firms that directly employ truck drivers. Non-compliant trucks in the contractor segment represent 44% of all non-compliant trucks, even though this segment represents only one fifth of total trucks covered by the regulation. 
This report comes as the California State Senate considers Assembly Bill 5 (AB5), which would ensure that California companies properly classify workers as employees and assume responsibility for the cost of equipment acquisition, financing, maintenance, and compliance. Currently, the misclassification of employees as independent contractors enables companies to slash 30% of operations costs by shifting payroll taxes, workers compensation, benefits, and equipment costs to workers.
"If we're going to make the transition to electric and low-carbon trucks we need to do it equitably and efficiently—that's not possible with misclassified contract truck drivers. AB5 can both protect California workers and accelerate our transition to a low-carbon transportation sector," said Sam Appel, author of the report. "By ensuring companies take responsibility to pay for equipment, California can build a fair economy and ensure we lead the country in low-carbon transportation."
"The evidence is clear: we need to solve the problem of misclassification in order to improve compliance with climate policies. The costs of climate policies in the trucking sector can be absorbed if they are spread out among trucking firms, retailers and consumers, but not when they fall on the shoulders of low-income truck drivers," said Carol Zabin, co-author of the report. "Misclassification makes it harder to reduce toxic emissions, which hurts all Californians, particularly low-income communities of color. Without action, these practices will impede our climate goals for the future, particularly California's transition to low- and zero-emissions trucks."
The corporate practice of worker misclassification impedes climate action by shifting the burden for low- and zero-emissions vehicle adoption from corporations to low-income drivers who cannot afford the costs. Proper classification will ensure that companies follow the law and fulfill their responsibility to finance the low-emissions transition while providing truck drivers with basic worker protections.
Category: Driver Stuff, Featured, General Update, Green, News