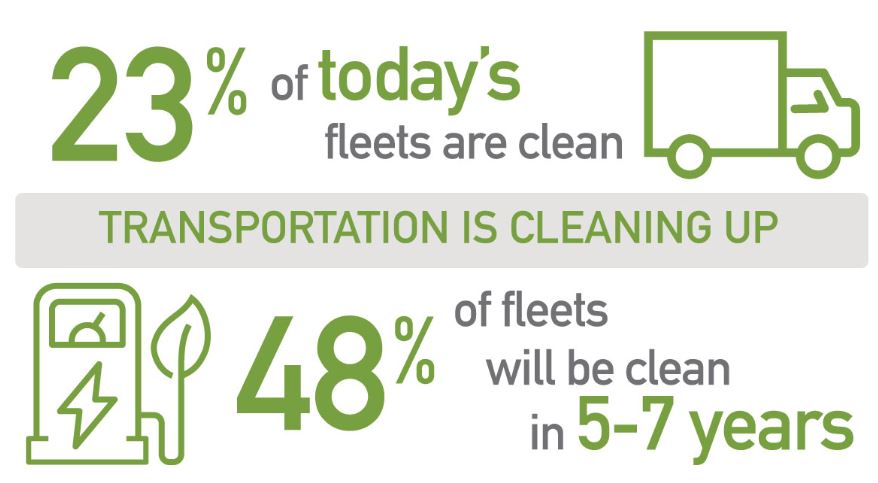 Poll finds nearly half of public and private fleets to be clean as early as 2024
Clean vehicle technology and electrification in transportation continues to surge with commercial fleets set to achieve nearly 50 percent adoption in the near future, according to a recent survey of public and private-sector fleet owners, policymakers and public infrastructure experts. The poll, "The State of Commercial Fleet Electrification: Electric Vehicle Industry Trends," was conducted by Mortenson.

The adoption of zero and near-zero emission technology in public and private fleets is growing, and the rapid change is causing industry insiders – who are responsible for supply chain management and the use and development of fleets – to examine what clean technology means for them, including whether they are prepared for the shift from conventional combustion engines. Today, 23% of fleets are clean energy powered, which is expected to more than double to 48% in 5 – 7 years according to poll participants.

The Mortenson survey was conducted at the 2019 Advanced Clean Transportation Expo. Over half of owners surveyed said electric is the best clean transportation option and 80% said vehicle ranges will meet needs within 5 years. The biggest barrier to clean transportation, according to the poll, is infrastructure, which may lead to challenges with implementation, incremental cost, or disruption to operations.

"It has been a pivotal year for commercial vehicle electrification. With the rollout of new designs from leading manufacturers, owners are embracing clean technology and organizations are primed to make the switch," said Joffrey Wilson, strategy and market development director at Mortenson. "Compelling results from early adopters are validating electric engines and potential savings. However, infrastructure is the primary barrier and must be considered early to understand impact on total cost of operation and to ensure an efficient transition."
Additional findings from the survey:
Electric is Preferred
Electric power is the preferred choice of the clean transportation technologies available today, including electric, compressed natural gas, hybrid, propane, and hydrogen/fuel cell. Industry professionals, by a 3-out-of-5 margin, believe electric vehicles are the cleanest technology available and provide a favorable cost of ownership. As fleet owners are formally weighing the pros and cons of electrifying their fleet, the poll shows 90% of owners have or will conduct a feasibility assessment in the next two years.

The Clock is Ticking
The transition to electric vehicles requires new infrastructure development and it will take time and commitment by fleet owners to get the necessary vehicle charging resources up and running. While development timeframes can vary, 70% of fleet owners know they may need up to two years to establish the infrastructure they need.

Support is Critical
Poll participants believe subsidies and legislation are the most important actions government should be taking to support clean transportation vehicle adoption. Related to this, industry professionals overwhelmingly agree that today's public/utility incentives are not enough to support widespread adoption and believe incentives will be needed for another eight to twelve years – or until about 2030.
Category: Electric Vehicles, Featured, Fuel & Oil, General Update, Green, News