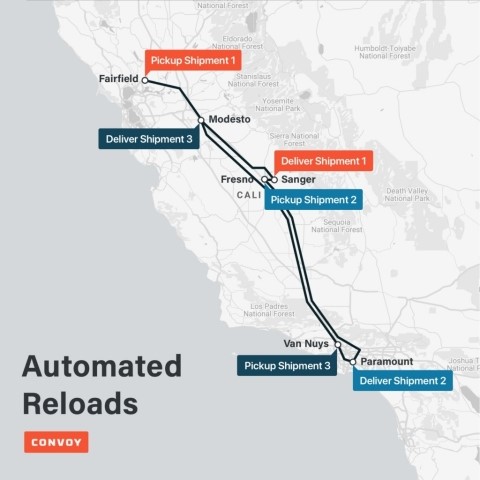 Automated Reloads Now Exceed 50% of Shipments in Lanes out of Top Freight Markets
Convoy, a nationwide digital freight network, today announced that the adoption of its recently launched Automated Reloads program is yielding a 45% decrease in the CO2 emissions created by empty miles in freight. Automated Reloads uses machine learning to automatically bundle multiple truckload shipments into one job, reducing empty miles and the resulting unnecessary carbon emissions. In the three months since launching Automated Reloads nationwide, Convoy is now bundling over 50% of its loads in lanes out of top freight markets including Atlanta, Los Angeles, and St. Louis.
AUTOMATION IS KEY TO REDUCING EMISSIONS FROM EMPTY MILES
According to 2017 EPA data, medium and heavy-duty truck freight account for 436 million metric tons of CO2 emissions per year. Convoy estimates that half of those emissions are for trucks in the full-truckload sector, where 35% of the total mileage is driven empty. Unfortunately, this has been the case for decades, with little progress toward reducing the times a truck is driving empty and needlessly producing carbon emissions.
Through Automated Reloads, Convoy can automatically identify the right set of shipments to group together for a carrier and let them book those as a single job. This makes it easier for the carrier to both find more loads to keep their truck full and earning, as well as reduce the carbon emissions from empty miles polluting our environment by 45%.
If the trucking industry as a whole were to reach the same levels of efficiency, it would reduce CO2 emissions by 34 million metric tons, which is equivalent to:
Taking 7.2 million passenger vehicles off the roads for a year – approximately the number of passenger vehicles registered in the state of Florida.
Planting 559 million tree seedlings and allowing them to grow for 10 years.
7,163 wind turbines running for 1 year.
Eliminating 78.3 million barrels of oil.
Eliminating 5.9 million homes' use of electricity for 1 year.
1.5 billion trash bags recycled instead of landfilled.
SOURCE: EPA Greenhouse Gas Equivalencies Calculator
"For decades, the miles that trucks run empty have been a seemingly intractable source of waste in the freight industry, unnecessarily emitting millions of metric tons of carbon dioxide,"said Aaron Terrazas, Convoy's Director of Economic Research. "More efficient route and schedule planning is the future of freight, and has the potential to meaningfully reduce the industry's carbon footprint."
SHIPPERS PARTNERING WITH CONVOY TO ACHIEVE THEIR SUSTAINABILITY GOALS
Today, 74% of the S&P 500 have corporate environmental impact goals specific to sustainability and carbon reduction. Progress against these goals has historically come from places outside the shipping supply chain, such as investing in renewable energy or reducing excess packaging. Aligned with its mission to reduce waste, Convoy has become a key partner to many of its customers in achieving their sustainability goals by digitally transforming their supply chain.
"By partnering with Convoy, we have used the benefits of their digital freight network to strategically batch our loads with the most relevant carriers to reduce the empty miles within our routes," said Angie Slaughter, VP of Sustainability Procurement, Anheuser-Busch. "By reducing these miles, we improve the sustainability of our fleet – taking another step towards our ambitious sustainability goal of reducing carbon emissions by 25% by 2025 – and continue to lead the way towards greater efficiency in the transport market and within our own supply chain."
As Convoy's business grows and more shipments are added to Convoy's digital freight network, its machine learning algorithms can identify more shipments to group together and automatically create the most efficient route for carriers. The resulting impact is a reduction of carbon emissions from empty miles which will increase as the percentage of automated reloads grows across Convoy's
Category: Driver Stuff, Featured, General Update, Green, News