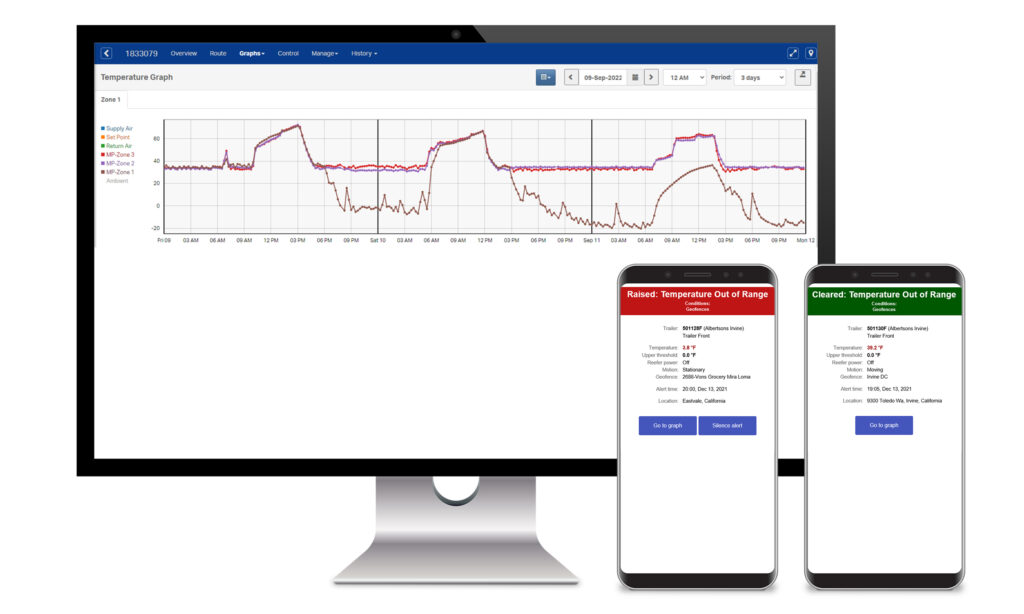 Quickly, Inexpensively Achieve Food Safety Compliance with Cooltrax® TempTracker® Management Solution
Cooltrax, a global provider of industrial IoT solutions for cold chain fleet management, introduced a next-generation Cooltrax® TempTracker® remote temperature monitoring solution that enables fleets to quickly and inexpensively achieve food safety compliance. The totally wireless system, which installs in just minutes, will be showcased at the Cooltrax booth (no. 737) during this week's International Foodservice Distributors Association (IFDA) Distribution Solutions Conference in Tampa, Fla.
This advanced solution – backed by the comprehensive Cooltrax Fresh InTransit telematics platform – offers a wireless, plug-and-play option for remote temperature monitoring of all types of temperature-controlled climates, including trailers, fixed storage locations and mixed and rental operations.
"Cooltrax TempTracker helps eliminate the unnecessary costs and complexity associated with achieving FSMA compliance and meeting customer audit requirements," said Mike Sharpe, president of Cooltrax North America.
The Cooltrax TempTracker solution includes wireless microsensors that monitor return air temperatures in single or multiple trailer zones/compartments. The sensors work seamlessly to transmit data synchronously every 15 minutes to the application-configured, cloud-based Cooltrax TempTracker web portal. Automated reporting can be configured to prompt instant email and SMS text message alerts if temperatures fall out of acceptable, preset ranges.
The Cooltrax TempTracker portal also provides instant access to a variety of data points, tools and satellite mapping. The solution offers embedded motion detection and geofencing capabilities to automatically record trip start/stop, arrival times, and temperature readings in transit for a simple proof-of-delivery transaction.
The sensors, which offer 10-year battery life, are fully operational when received by the fleet and can be installed in minutes, functioning through a local gateway connected to 4G cellular networks.
"As cold-chain businesses begin to adapt to the insights and capabilities of this solution, we can scale the TempTracker solution to an even deeper, more intensely data-driven approach," Sharpe said.
Category: Accessories, Cab, Trailer & Body, Connected Fleet News, Equipment, Featured, Fleet Diagnostics & Software, Fleet Maintenance, Fleet Tracking, General Update, Green, News, Products, Safety, Tech Talk, Tools, Vehicles