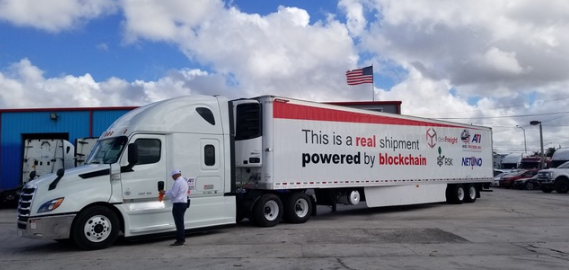 Blockchain logistics platform provider is implementing Blockchain in Transport Alliance data format and framework specifications
dexFreight, providers of a decentralized, blockchain-based logistics platform, is implementing the newest Blockchain in Transport Alliance(BiTA) standards. The latest BiTA Standard—120-2019 Location Component Specification— is the organization's first data format specification. BiTA has also released a Tracking Data Framework Profile, its first foundation document.
"dexFreight joined BiTA shortly after its inception because we saw the need for standard data definitions across the industry to interact with smart contracts and between ledgers maintained by different entities," said Rajat Rajbhandari, CEO and co-founder of dexFreight. "BiTA members should begin to implement standards in their systems as they are developed and released."
The importance of blockchain technology and the need for standards was apparent at the recent Blockchain Revolution Conference, Rajbhandari pointed out, where executives from FedEx DHL and UPS shared the stage to discuss how blockchain can transform the global supply chain. He also expects that topic to be discussed at the Transparency19conference where dexFreight will be a demonstrating its blockchain-based logistics platform.
"Building blockchain standards is a lengthy process," Rajbhandari stated. "At dexFreight, as new standards are approved by BiTA, we will quickly implement data definitions in our code."
The Blockchain Standardspublished by BiTA provide the initial framework for interoperability. The Location Component Specification provides for a data structure that is used whenever a fixed or mobile location needs to be recorded on the blockchain. The Tracking Data Framework Profile provides information to quickly determine the location of a shipment and to see how it is progressing through its planned route and operational processes.
"We are excited to see the first known instance of a company adopting our standards, and it's even more exciting that dexFreight is a BiTA member that was formed at our first symposium," said Arlen Stark, chief of staff at BiTA. "We encourage other organizations to follow in dexFreight's footsteps."
BiTA was founded in August 2017, and has quickly grown into the largest
commercial blockchain alliance in the world. Its membership includes nearly 500 members in more than 25 countries that collectively generate over $1 trillion in revenue annually. BiTA members are primarily from the freight, transportation and logistics industries. BiTA members share a common mission to develop a standards framework, educate the market on blockchain applications and encourage the use of those applications.
Category: Featured, General Update, News