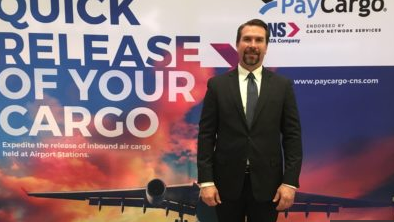 van der Walt will assume role from Eduardo Del Riego in June
PayCargo LLC, which operates a patented online payment system in the global freight industry providing overnight settlement of invoices between shippers and carriers, has appointed Lionel van der Walt, a veteran of the Air Cargo Industry with more than 20 years of international executive leadership experience, as their President and Chief Executive Officer (CEO) The Americas. van der Walt will replace Eduardo Del Riego, who will become the company's new Global CEO, effective July 1st.
van der Walt spent over a decade with the International Air Transport Association (IATA) where he held various leadership roles based out of South Africa, Spain and the United States, including President at Cargo Network Services Corp. (CNS), IATA's U.S. cargo subsidiary. In 2018 he joined RCI, Inc., who recently rebranded as the International Institute of Building Enclosure Consultants (IIBEC), to serve as their Chief Executive Officer, based out of Raleigh, NC. He has also been serving as a member of PayCargo's Board of Directors since April of 2018, and has recently been appointed to serve on the RCI Foundation board.
"We are thrilled to have Lionel join PayCargo as our new CEO," said Larry Brandt, chairman of PayCargo's Board of Directors. "His track record of leadership, energizing teams, and creating value makes him an ideal fit. We are confident he will infuse focus and enthusiasm at PayCargo."
"I'm excited to begin my new role at PayCargo," said van der Walt. "It is an honor to join the world's leading and fastest growing online payment platform for the shipping and cargo industry. The company has a bright future and I look forward to working with Eduardo and the team to further accelerate the company's expansion across the Americas. My focus will be to further strengthen the company as an innovative, dynamic and nimble financial technology solutions provider, working to maximize efficiencies and cross industry synergies in order to provide best in class services to our clients and partners."
Category: Featured, General Update, News, Tech Talk