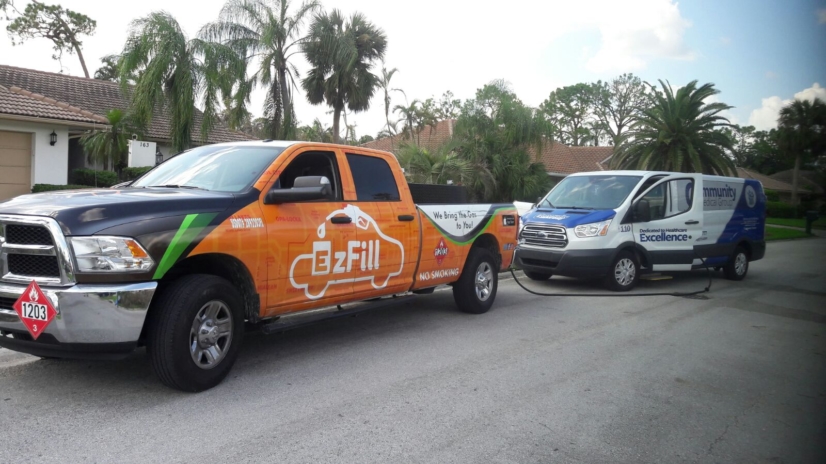 Commercial Business Customers Save Time By Refueling Fleet Vehicles
Fleet-based commercial businesses in South Florida are encouraged to discover the benefits of a partnership with EzFill , Florida's leading on-demand fuel delivery service, through the use of their mobile fueling solutions. Improving driver routes and eliminating time spent at the gas station, EzFill not only benefits company performance, but also provides business managers with ease of mind knowing that they have partnered with a fully certified, secure solution for their fleet fueling needs.
With solutions to meet any sized business in any industry, EzFill helps local businesses run more efficiently by not having to worry about where, and when to fuel their fleet. "As a business owner, one of your main priorities is efficiency throughout all aspects of your company," said Josie Guardado, Business Executive at EzFill. "By partnering with businesses, we ensure they enhance their overall operations by giving them a reliable solution to their fueling needs."
Businesses choose EzFill as a partner because of their extensive certifications, including liability insurance, D.O.T. approved tanks, U.S. weights and measures regulation, HAZMAT-certified commercial drivers, safety protocol training, and a dedicated 1-800 number for emergencies.
EzFill also eliminates risk and liability by ensuring safe and secure transactions. Along with important certifications, EzFill provides commercial business partners with friendly customer service and excellence with each fuel delivery. Additional benefits of partnering with EzFill include a cashless billing system with weekly invoicing for easy accounting reconciliation, the latest app technology with integrated Google location tracking, automated dispatch, and more.
Earlier this month, EzFill announced an expansion of its services into the larger Florida region with markets now including South Miami and Fort Lauderdale, along with the previously serviced Greater Miami area. In addition to their corporate solutions, EzFill offers services for individuals and small communities to order on-demand gas delivery at one's leisure, providing customers peace of mind and allowing them to spend more time doing what they love. To use EzFill, simply download the app, order fuel, and a technician is instantly dispatched to the user's GPS location.
Category: Driver Stuff, Featured, Fuel & Oil, General Update, News