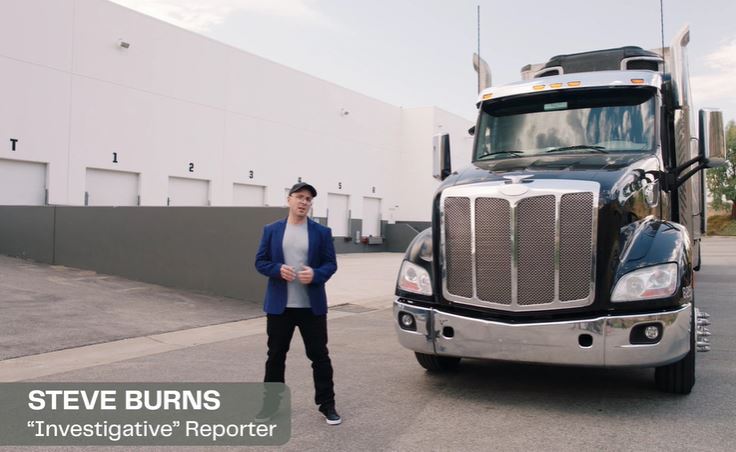 "Define Your Load" gives an inside look into one of the freight industry's biggest weaknesses – loads of empty space in trucks
Flock Freight®, the technology company creating a smarter, more sustainable supply chain using patented technology to pool freight at scale, announced a new ad campaign, Define Your Load. Developed and produced with Maximum Effort, the marketing and production agency founded by George Dewey and Ryan Reynolds, Define Your Load leans into comedy and NSFW language by featuring the beloved Blue's Clues star Steve Burns using four-letter words to articulate the definition and value of shared truckloads. 
Define Your Load gives an inside look into one of the freight industry's biggest weaknesses – a s**tload of empty space in trucks. Knowing that half of the big trucks on the road are half full, Flock Freight solves this challenge by using proprietary algorithms to match locations, schedules, and compatible shipments to find the best options to pool freight among billions of possible combinations. By optimizing shipments using shared truckloads, shippers can save more money, carriers can earn more money, and goods are delivered on-time and damage-free.
"It's been exciting to partner with the creative team at Maximum Effort to bring this concept to life. The campaign uses humor and unexpected novelty to educate and spread the word about how we are creating a smarter supply chain using shared truckload," said Orlando Baeza, CMO of Flock Freight. "As disruptions in the supply chain continue to challenge businesses across the country, Flock Freight is reinventing how the industry moves freight by using our patented technology – and this campaign aims to explain the value of shared truckload which is great for both shippers and carriers."
"This was such a fun experience. I got to work with truly hilarious people and also take a deep dive into one of the most pressing questions of our time," said Steve Burns.
"Supply chain technology isn't exactly Maximum Effort's core competency. But Flock Freight's bravery, playfulness, and ambition to revolutionize their industry made it a perfect partnership from our first creative discussion," said John Deschner, Strategy Lead for Maximum Effort.
Category: Cab, Trailer & Body New, Connected Fleet News, Driver Stuff, Equipment, Featured, General Update, Management, News, Shop Stuff, Tech Talk, Tools, Transit News, Vehicles