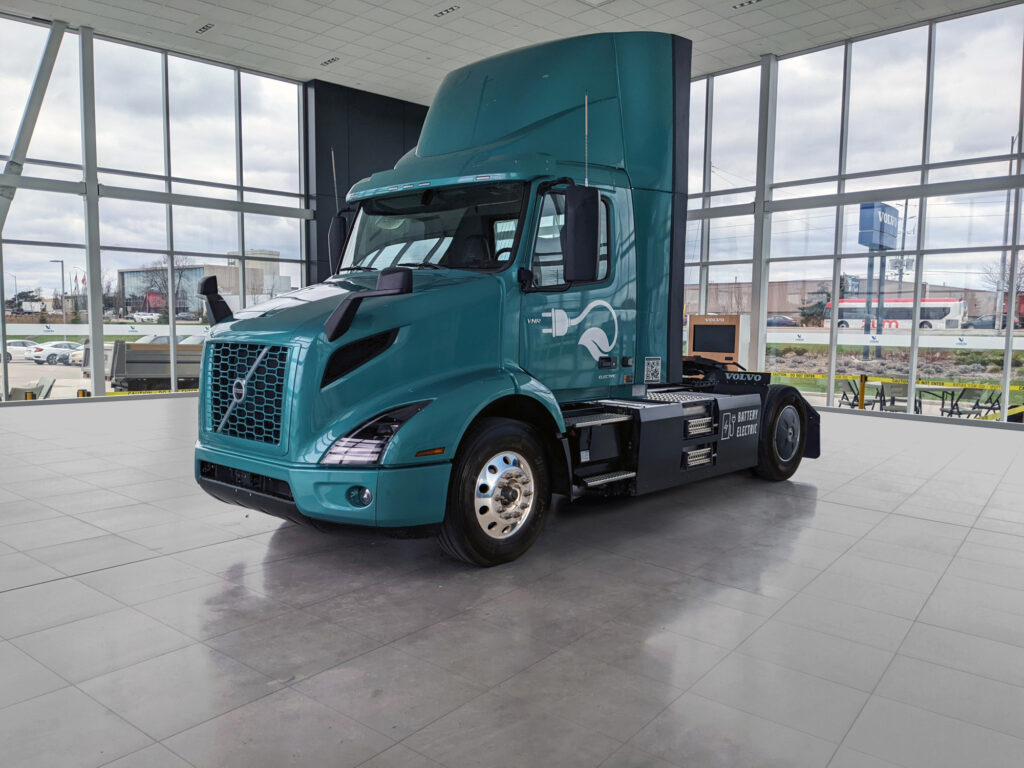 Both the Pendleton and Toledo locations have two dedicated service bays with diagnostic tools to service battery-electric trucks
Volvo Trucks North America dealer General Truck Sales has completed the necessary training and facility upgrades to earn the Volvo Trucks Certified Electric Vehicle (EV) Dealer designation at two of its flagship locations — Toledo, Ohio, and Pendleton, Indiana — both of which are positioned near major interstates to service fleet customers throughout the Midwest. General Truck Sales' Pendleton dealership is the first official Volvo Trucks Certified EV Dealer in Indiana, and its Toledo dealership is now the second in Ohio.
"We are excited to start the new year adding another new state into our expanding network of certified EV dealerships, as well as to see the trend continue of our dealer partners certifying more than one location at a time," said Peter Voorhoeve, president, Volvo Trucks North America. "Our goal of developing a widespread electromobility ecosystem of support for our battery-electric trucks is happening at an incredible rate. We now have more than 20 Volvo Trucks Certified EV Dealerships in 11 U.S. states and three Canadian provinces supporting Volvo VNR Electric deployments."
General Truck Sales is a four-time Volvo Trucks Dealer of the Year award recipient and is continuing that tradition of excellence by ensuring its sales teams are fully trained to consult with customers that are considering investing in any of the five Volvo VNR Electric model configurations. Additionally, the dealer's service team has two technicians at each location that have been fully trained and equipped to safely perform battery-electric truck maintenance and repairs for trucks in operation. General Truck Sales also has a 50kW electric vehicle charger at each location with multiple outlets to provide flexibility in charging locations.
"We see the freight transportation industry's acceleration towards alternative fuel and zero-emissions vehicles and are excited to help Midwestern fleets as they move towards the future of heavy-duty transport. Achieving the Volvo Trucks Certified EV Dealer designation has been a guiding goal for our leadership team, so our two newest facilities in Pendleton and Toledo were actually designed to support a future expansion into electric vehicles," said Steve Bassett, president, General Truck Sales. "Our more progressive customers see the emerging need and value of reducing their carbon footprint and are getting increased requests from the shippers they work for to make the transition to zero-tailpipe emission battery-electric trucks."
Both the Pendleton and Toledo locations have two dedicated service bays with diagnostic tools to service battery-electric trucks, including the personal protective equipment for the technicians working with the high-voltage systems. Volvo Trucks' premier service offering for the Volvo VNR Electric model — the Volvo Gold Contract — provides customers with operational peace of mind when purchasing a battery-electric truck and provides access to 24/7 support.
With the Volvo Gold Contract, Volvo Trucks Certified EV Dealers provide scheduled and preventive maintenance and repair in dedicated EV service bays to ensure peak vehicle uptime, performance, and productivity. The dealership also maintains a stock of key parts and components for the Volvo VNR Electric model at each location to minimize service times and quickly get customers back on the road.
Volvo Trucks now has certified EV dealers in California, Indiana, Massachusetts, Minnesota, New Jersey, New York, Ohio, Pennsylvania, Tennessee, Texas, and Virginia, as well as in British Columbia, Ontario, and Quebec, Canada, with numerous dealerships across North America finalizing their certifications in 2023.
Category: Cab, Trailer & Body, Electric Vehicles, Engines & Drivetrains, Equipment, Featured, Fleet Diagnostics & Software, Fleet Maintenance, Fuel & Oil, General Update, Green, News, Products, Tech Talk, Training, Vehicles