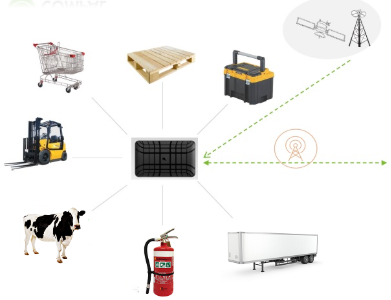 By 2027, there will be 267 million active RFID/asset trackers in use
Asset tracking is the fastest growing industrial IoT market and most connected devices will be location aware within the next decade. Driving this growth is the relentless improvements in low power RF chip technologies and the adoption of Low Power Wide Area Networks (LPWAN) and Bluetooth Low Energy (BLE) beacons that are creating new asset tracking IoT solutions.
The author surveyed 62 industrial asset tracking leaders and innovators and found that over half have commercial deployments and 19% have deployed >50,000 asset trackers. Respondents have high demands for their asset trackers with one third expecting to have >200 transmissions/day and 27% expect their devices' battery life to be >5 years.
Sensor-enabled smart tags remain a growing trend with 84% including sensors other than GPS in their asset tracking devices. Respondents are most satisfied with the data reliability and data rate and least satisfied with battery lifetime and cost.
By 2027, there will be 267 million active RFID/asset trackers in use worldwide for industrial automation, logistics, supply chain, agriculture, construction, mining and related markets. Vehicle asset tracking for fleet management will make up the largest portion until 2024 when it will be surpassed by tracking, locating and monitoring for other types of assets including shipping containers, livestock, machinery, equipment and tools.
Study Coverage
The author has conducted market research on industrial IoT markets for the past 15 years. In this report, we cover active RFID asset tracking or smart tags for manufacturing, logistics, energy/utilities, agriculture, mining and construction markets.
Category: AUTONOMOUS, Connected Fleet News, Featured, Fleet Diagnostics & Software, General Update, News